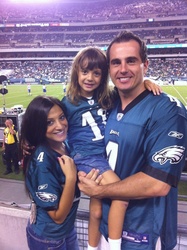 Determine never to be idle. No person will have occasion to complain of the want of time who never loses any. It is wonderful how much may be done if we are always doing.
New York, NY (PRWEB) September 14, 2010
Rich Gorman is a true inspiration for entrepreneurs that have experienced trials and tribulations, to have lost everything and then climbed to the top again. His internet business consulting firm, Gorman Economics LLC, is starting to make a big splash in the IT industry. Rich recently received an invitation to the most exclusive internet marketing conference in the world, Think Tank, hosted by DK and PurposeInc.com. This story is about a man that was able to achieve excellence against all odds.
If life is a ride, which it surely is, then Rich Gorman's life has to be the balls-out wildest roller coaster in the park. Rich Gorman doesn't mind: Any life is going to have its ups and downs. Only an idiot would buy a ticket to a roller coaster that didn't have turns, climbs loops and dives, and anyone who really wants his money's worth is going to look for the highest, fastest ride he can find.
Rich Gorman got his start 9 years ago at Florida State University. Using a credit card with a $1500 limit and the support of family and friends, Rich Gorman locked in a few hundred sport domain names such as LSUshop.com, SeminoleShop.com, and PennStateShop.com. It was fortuitous timing, as LSU would go on that year to win the national championship and Rich Gorman would go from an $8 an hour employee at CompUSA in Dec. 01 to earning $113,481 in Jan. 2002. Suffice is to say that Gorman summarily quit CompUSA and never turned back.
College at Florida State would unexpectedly end early for Rich Gorman, which turned out to be a blessing in disguise. Without the pressures that college life can bring, this talented entrepreneur tapped into his talent of turning creative ideas into formidable ventures. Pioneering continuity programs into the weight loss vertical, Rich Gorman partnered with eDiets.com and the like to monetize their traffic. Serendipitously discovering the power of membership programs, Rich capitalized early on with a slew of high converting offers strategically placed on high traffic sites – which would later get coined as "media buys."
Parlaying his earnings, Rich started taking 7 figure positions in residential and commercial estates in the southeast. Have the clairvoyance to see the bubble building, Rich moved out of the majority of the properties at the apex of the market. The remaining properties he would later short sell, moving his position into the red and practically causing a bankruptcy. During which time Rich would come under questionable litigation. When it rains it pours.
Having the mental fortitude to withstand adversity, Rich Gorman tied up the loose ends of his past and formed what has now become the most sought after internet marketing consulting firm, Gorman Economics LLC. This past year Gorman Economics built out and ranked MobileaseModular.com on Google for the commercial intent keyword "modular space," singlehandedly driving $16 million dollars in direct revenue. Gorman Economics has helped launch prominent affiliate networks, FDA approved drugs, and multiple direct response product lines. Gorman Economics proactively manages direct response campaigns and specializes in building out strong merchant processing, design, fulfillment, customer support, CRM integration, funding, and "the legal backbone" for its clients. Gorman Economics also holds a strong pillar in the affiliate marketing world.
This year Rich was invited to the most exclusive internet marketing conference in the world, Think Tank hosted by DK and Purpose Inc. Think Tank is an internet business event for people making money with the internet, internet entrepreneurs, affiliates, SEO's, Web 2.0's, site owners, domainers, programmers, and anyone else making money with the internet.
Rich Gorman graduated Magna Cum Laude from Ohio University with a degree in Economics and Business Law. After a short stint at grad school at Harvard, Rich Gorman dropped out and focused his full attention on internet businesses. He is the proud father of Alexis Gorman and is in a very happy relationship. On his free time Rich enjoys spending time with family, interior design, exercising, and engaging in competitive activities.
While many entreprereurs would have given up after the level of adversity Rich Gorman had faced, this young man is a perfect example of the power of resilience. For those of you that have struggled or continue to struggle, follow Rich Gorman's advice on "by working harder and smarter things will always turn themselves around." In this economy nothing could be truer.
###