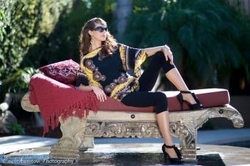 "Celebrate Life and Honor the Empowered Fabulous Female Spirit"
Santa Monica, CA (PRWEB) September 14, 2010
F a s h i o n C a r e s! Visionary Fashion Designer EVA VARRO Celebrates Santa Monica Place Flagship Store Grand Opening with Runway Fashion Show and Champagne Charity Gala to Benefit Susan G. Komen For The Cure, Los Angeles County Affiliate.
In the True Nature of Community and Advocacy, the Event will Fashionably Kick off October's Breast Cancer Awareness Month, Celebrate Life and Honor the Empowered Fabulous Female Spirit as EVA VARRO Presents Her Stunning 2011 Collection Modeled on The Pink Catwalk For The Cure .
WHEN: September 16, 2010 RSVP ONLY
TIME: 6:00pm to 10:00pm
VENUE: The Annenberg Community Beach House
415 Pacific Coast Highway Santa Monica, CA. 90402
EVENT HIGHLIGHTS:
Aquatic Performance by The Aqualillies
Tantalizing Cuisine and Catering by Wolfgang Puck for Chinois
Beauty Bar and Mini-Makeovers by Hard Candy
Runway Footwear by SHOEDAZZLE
Refreshments by Steaz
Automotive Sponsor: Ford-Lincoln-Mercury of Santa Monica
Runway Models by Global One Ltd.
Featuring Celebrity Guest Models:
Ashlan Gorse, Susan Blakely, Maeve Quinlan, Dana Rosendorff, Lisa Ann Walter, Julie Moran
SHOP FOR THE CURE During the Month of OCTOBER, EVA VARRO will donate 10% of all retail sales from their prestigious new Santa Monica Place location to Susan G. Komen For The Cure, Los Angeles County Affiliate.
EVA VARRO, a graduate of the Fashion Institute of Budapest, Hungary is now taking her talents and her brilliant collection to the streets locally opening her first boutiques in The Promenade on The Peninsula/Rolling Hills, California (MAY, 2010) and Santa Monica Place/Santa Monica, California (August, 2010).
Truly a breath of fresh air in the fashion world, EVA VARRO has bridged the gap between fashion and function by creating a collection that is contemporary, fresh, breathable, washable, virtually wrinkleless and flatters EVERY woman's shape.
In the true spirit of European Haute Couture, the EVA VARRO collection boasts slinky, sensual, figure-flattering fabrics that work with everything from denim to diamonds, sandals to stilettos. In addition to these basic pieces (which are anything BUT basic), Eva's collection also is comprised of luscious prints from Vintage-Retro inspired to Classic- Modernism. Truly an art-to-wear statement for any woman who desires to glow with the EVA VARRO aura of self-confidence and individuality. And, WHO DOESN'T?
Hands-on design, a commitment to excellence, an impeccable eye for trends before they debut on the runway, pattern consistency and years of technical experience have awarded EVA VARRO a signature look like no other that have women craving more. "What each customer gets is originality, assurance that she will not blend in with the sea of trendy, but make a statement that will make all fashionistas take notice."
Made in the USA, unparalled quality, excellent price points and sought after by such celebrity clientele as Vivica Fox, Kelly Rippa, Lisa Ann Walter, Sophia Milos, Judy Tenuta, Mary Hart and Angela Basset (just to drop a few names!), EVA VARRO has become a household name as well as the RX for every woman's fashion needs.
EVA VARRO also introduced her newest collection, ACCOLADE, to the New York and Los Angeles runways this SPRING, 2010. Limited in edition as well as series, this contemporary silk novelty collection of stunning printed tunics, dresses and silk tops is sheer FABULOSITY!
*Invitation Attached
###