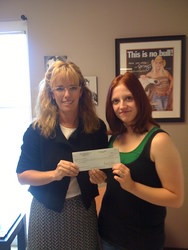 I believe my arrest was retaliation for whistle blowing against a 'Good Ole Boy' network that dominated HR. I was told 'skirts don't speak' at Nissan North America & I spoke and ended up in jail twice
Franklin, TN (PRWEB) September 15, 2010
Sharyn Bovat, the middle Tennessee relocation consultant assigned to manage the move of Nissan board member Carlos Tavares in spring of 2009, appeared in the General Sessions Court in Franklin, TN, at the Williamson County Courthouse 9am Tuesday, September 7th (Court Case #gsc3714 & #gsc2010) for the preliminary hearing. Two motions were heard from her two arrests for trespassing and harassment which Bovat alleges were "retaliation for my whistle blowing against a 'deep rooted' Good Ole Boy network in the community that has ties to Nissan Human Resources."
In court the district attorney's office made a motion for Bovat's bond to be forfeited (attached). This motion was made based on emails Bovat sent to Carlos Tavares after her arrest. Bovat's reaction to the motion was, "I emailed the Nissan board member Carlos Tavares because he's the only person that can assist me in clearing my name."
The second motion (attached) was Bovat's requesting a change in venue. Bovat said she filed the motion because, "Finding a lawyer to represent me in the charges has been difficult. My activism against 'Good Ole Boy' networks has made me unpopular in the community." The change of venue motion failed at the preliminary hearing but can be refiled if there is an indictment.
Bovat said after the hearing, "When the DA had a witness read one of the emails that I sent to Mr. Tavares about my experience in jail I just teared up."
That email led to Bovat's 2nd arrest. On September 13th Sharyn received a check from Grumpy's Bail Bonds in Franklin for the bond for the harassment charge."
Bovat says, "During the relocation process for Mr. Tavares, employees at Nissan who knew I had the 'ear' of the high level leader approached me with more issues and soon I became a conduit to Mr. Tavares."
According to court documents in Bovat's motion to change venue Bovat states that her whistle blowing against a 'Good Ole Boy' network about discrimination against women and other problems she told Mr. Tavares about led to her first arrest. Bovat states her claims are backed up by internal statistics provided by Nissan. On the Nissan global website, data shows women in management declined from 21% to 10% after the company's move to Tennessee from California. Bovat states, "Changes in the Nissan corporate code of conduct were made based on my whistle blowing."
Upon review of the corporate governance section found in the Nissan global website, it details changes in the Nissan Corporate Code of Conduct that have been made and in effect late 2010.
http://www.nissan-global.com/EN/COMPANY/CSR/CORPORATE_GOVERNANCE/
That data on the decline of women in leadership roles at Nissan North America can be found on the Nissan global website:
http://www.nissan-global.com/EN/COMPANY/CSR/LIBRARY/SR/2006/
http://www.nissan-global.com/EN/COMPANY/CSR/LIBRARY/SR/2010/
The Grand Jury will meet on Bovat's remaining charge in mid October. Attached is the Grand Jury notice Bovat received in court,
For the full article about Sharyn Bovat's arrest and to see court documents go to: http://www.nissanwhistleblower.com
CoolSprings.com interviewed Bovat after her arrest, for the complete story visit:
http://www.coolsprings.com/news/nissan-whistleblower-arrested
###