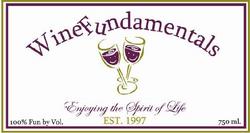 After reading this book, you will have enough wine knowledge to play wine with the big boys and girls. Remember this, the door that leads to the executive office NOW says: Wine Cellar
Newcastle, CA (PRWEB) September 14, 2010
Breaking the Wine Code -- Removing Your WIF, Wine Intimidation Factor; The Red & White of It -- What You Really Need to Know About the Wines of…, and, The Fine Wine of Business -- Cheat Sheets for the Boardroom and the Water Cooler are the three section titles of Roxanne Langer's new wine book for the busy business person. The 60-Minute Wine MBA answers the questions every business person needs to know about wine in a format that is lively, easy to read and easy to remember.
From tips on what to taste for when the waiter pours the first glass to suggestions on how to easily pair wine and food for a large group at a restaurant, Langer takes the intimidation out of wanting to be more wine savvy. The first two sections provide the reader with enough information to be credible in a wine discussion and the last section provides "cheat sheets" on wine vocabulary, terms and most importantly, various lists of wines including "Which Wines You Need To Know To Impress."
About WineFUNdamentals:
Author of The 60-Minute Wine MBA program and president of WineFUNdamentals, wine expert Roxanne Langer frequently provides keynotes and breakout sessions at corporate and industry events.
Contact:
Roxanne Langer
WineFUNdamentals
P.O. Box 703
Penryn, CA 95663
(916) 663-2858 Office
(916) 799-2771 Cell
Roxanne(at)Wine-Seminar(dot)com
http://www.Wine-Seminar.com
###