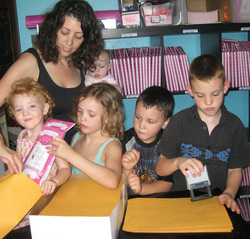 "I love your tanks. My stomach was ravaged by my precious baby boy. I wear my Modest Middles everyday. I wear what I like & even saved $$$!Thanks Modest Middles."~M.R. San Diego, CA
(PRWEB) September 16, 2010
When breastfeeding mom, Amy Maschue, launched a home-based business in October 2008 she had never used social media. As Modest Middles, her specialized nursing undershirt designed to help breastfeeding moms keep their middle covered while nursing in public, began to sell online and in retail stores, she realized that growing her business with four small children would take an "out-of-the-box" approach. With a fifth baby on the way, Amy needed a way to communicate to breastfeeding moms all over the USA from the small office in her home. Social networking was the answer.
In this tough economy, Amy has focused on selling with low overhead by staying home-based and using social networking to get the word out about her product Modest Middles Nursing Tank Tops. In December 2009, a family friend who uses social media successfully in his own business gave Amy a quick social meida tutorial. Since committing to daily blogs, Facebook and Twitter posts, sales of Modest Middles have more than doubled.
With daily social networking and the help of her husband Phil, Modest Middles Nursing Tank Tops are currently worn by moms in all 50 states and in five countries. They are currently carried in AZ and MA stores.
Modest Middles LLC has become an important asset for the Maschue family. In fact, when Phil was laid off last year, Modest Middles provided a financial "safety cushion" for the family of seven. The couple continues to increase sales by getting product ideas from the trials and joys of motherhood and breastfeeding.
Modest Middles is launching new products and a series of interviews for the Modest Middles You Tube Channel this October. The new products include baby wraps using the Modest Middles "baby soft" fabric and a line of pro-breastfeeding onsies and clothing sets. The interviews will feature questions collected from Modest Middles customers and Facebook, Twitter and Blog fans asked to experts on topics ranging from "5 Secrets to a Natural Childbirth in a Hospital" to "From Breastmilk to Table Food".
Please visit http://www.modestmiddles.com for more information about Modest Middles Nursing Tank Tops. Contact Amy Maschue at contact(at)modestmiddles(dot)com for information about new products and interview series launching in October.
###