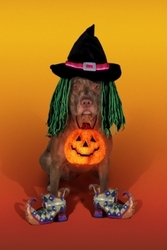 This is a 'fun raiser', not a fundraiser.
Story, AR (PRWEB) September 27, 2010
The Proper Pit Bull website is hosting an online Halloween costume contest for 2010. Pit bull dogs including American Pit Bull Terriers, American Staffordshire Terriers, Staffordshire Bull Terriers and Pit Bull mixes are eligible to enter from now through October 22, 2010.
Prizes will be awarded for First, Second and Third place winners. Winners will be decided by popular vote. Contestants must submit a photo of their dog in costume along with a narrative about their dog and the costume. For more information on entering the contest, visit: http://www.the-proper-pitbull.com/halloween-costume-contest-2010.html.
The contest's organizer, Gale Henrard, says that in addition to being fun for pit bull owners and fanciers, she hopes that events like hers will raise awareness among the general public about the true nature of these dogs and their owners. "Many people still think of pit bulls as a big set of teeth at the end of a heavy chain. Overwhelmingly though, pit bull owners are responsible pet lovers who treat their dogs as part of the family. But, the gentle dog living with a loving family doesn't make the evening news. For now, we're the invisible majority."
The prizes to be awarded are being provided by the event's sponsors which are: The Pit Bull Princess, an online store with a wide selection of pit bull themed merchandise; Unbreakoball, a specially designed dog toy made to stand up to dogs that are aggressive chewers and Blocky Dogs, makers of custom dog collars for large and bull breed dogs.
"I'm proud of our sponsors and the prizes we are able to offer thanks to them," says Henrard. She also notes that entering the contest is free of charge. "This is a 'fun raiser', not a fundraiser." We just want folks to join in and have a good time."
The Proper Pit Bull is an educational website created by Gale Henrard. Ms. Henrard is a pit bull owner and former humane education worker who shares her experience and advice on training, adoption and other issues facing pit bull owners. Anyone can sign up to receive her free ezine, "Bully for You!" at http://www.the-proper-pitbull.com/bully-for-you.html
# # #