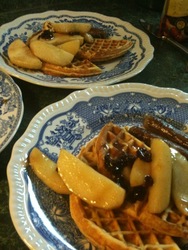 "Perfect pampering in Charm City," and "Oasis in Upscale Baltimore Neighborhood," say just a few reviewers on TripAdvisor.com.
Baltimore, MD (PRWEB) September 15, 2010
Scarborough Fair Bed & Breakfast, (http://www.scarboroughfairbandb.com/), Baltimore's most award winning B&B, is celebrating the change in seasons in many ways. October 5th marks their first Autumn Bacon Ball Benefit, a party celebrating the paranormal and seasonal breakfast foods, including pumpkin pancakes, chocolate bacon waffles and bloody marys made with the exceptional Bakon Vodka that has become very popular with those that love food as well as spirits. October also means there Dreadful Drawing will be in effect, where guests will be chosen at random to win such prizes as tickets for the Baltimore GhostWalk Tours or to gift certificates to a reportedly local haunted restaurant. Their website, (http://www.scarboroughfairbandb.com/haunted.htm), has a full list links and videos of the more haunted side of the Inner Harbor. November brings the season for reduced room rates, meaning an escape before the chaos of the holidays is timely and affordable.
Scarborough Fair Bed and Breakfast was named one of the top Bed and Breakfasts in the city by Baltimore magazine in its 35th annual Best of Baltimore edition. The August 2010 issue marks the first time Bed and Breakfasts were included as a category in the popular annual "contest" which celebrates the best that Baltimore has to offer visitors and residents. It has also recently won the title of "Best Urban Inn" from BedAndBreakfast.com as well as being honored by being awarded membership to the organization Select Registry; Distinguished Inns of North America. This boutique B&B is also the number one ranked bed and breakfast on TripAdvisor.com. They have won so many awards and accolades for the comfortably luxurious rooms, (http://www.scarboroughfairbandb.com/ourrooms.htm), as well as for their delicious and imaginative seasonal breakfasts.
Owners by Barry Werner and Jeff Finlay, who oversee every detail to ensure accommodations, amenities and breakfasts exceed guests' highest expectations. This time of year they forage at local farmers markets to source the freshest eggs and produce available. The breakfast menu is now featuring their extraordinary frittatas with farm fresh butternut squash and mixed cheeses, homemade honey wheat scones, pumpkin pancakes. At the top of their repeat guests' breakfast favorites list are their Rosemary Sweet Potato Waffles, often served with apples from local orchards that are sautéed in lots of cinnamon, butter and brown sugar. Then toasted pecans and dried cranberries finish off the very satisfying dish.
The following recipe illustrates why Scarborough Fair is so popular among the "foodies" and why it was recognized for being the best bed and breakfast in Baltimore:
Scarborough Fair Bed & Breakfast's Famous Rosemary Sweet Potato Waffles
Makes 10 six inch waffles.
These wonderful waffles are the flavors of fall on your plate for breakfast. Earthy rosemary combined with the sweetness of the sweet potato, results in a soul-satisfying breakfast. We often serve these waffles topped off with fresh apples and dried cranberries, sautéed in butter, cinnamon, and brown sugar.
2 teaspoons minced rosemary leaves
2 cups all purpose flour
1/4 teaspoon salt
1 tablespoon baking powder
3 eggs, yolks and whites separated
1 1/2 cups cooked sweet potato, mashed
1 1/2 cups milk
1/3 cup packed light brown
4 tablespoons unsalted melted butter
Preheat waffle iron.
In a large bowl, whisk together rosemary, flour, salt, and baking powder. In another bowl, whisk together yolks, sweet potatoes, milk, brown sugar and butter. Pour sweet potato mixture over flour mixture; whisk until smooth. In a small bowl, whisk egg whites until stiff peaks form. Fold in egg whites. Ladle waffle batter into hot iron and cook according to manufacturer's directions.
###