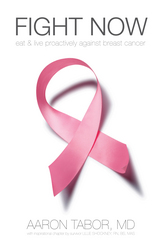 "New medical research documents that many controllable choices can decrease risk of breast cancer."
Winston Salem, NC (PRWEB) September 22, 2010
Tragically, over 40,000 women will die with breast cancer this year in America as part of over 200,000 new diagnoses. Current anti-breast cancer medical efforts are aimed at critical early detection with mammograms. Early detection allows doctors to treat the cancer while it is still small and confined to the breasts. However, new medical research strongly suggests that women can eat and live proactively to prevent breast cancer before it strikes. Aaron Tabor, M.D., along with Lillie Shockney, RN, have written FIGHT NOW for women who want to reduce breast cancer risk, or risk of cancer recurrence, with proper eating and lifestyle choices. FIGHT NOW is available for free download at http://www.fightBCnow.com.
"New medical research documents that many controllable choices can decrease risk of breast cancer. Women shouldn't wait around to simply become another random breast cancer victim. Whether you are currently a breast cancer patient, a survivor, or at high-risk for breast cancer, you can choose to fight now using the latest eating and lifestyle research. Prevention is the best cure," said Dr. Tabor.
Dr. Tabor's top ten food items to fight breast cancer include easy-to-enjoy carrots, apples, and green tea. According to Dr. Tabor, "Carrots and other foods rich in beta-carotene may lower your breast cancer relative risk by up to 221%, and lower the risk of invasive cancer. A natural substance in raw carrots named 'falcarinol' can slow the growth of cancer cells. Falcarinol is inactivated by heat or cooking, so it is critical to eat raw carrots, too."
"A few apples a day may truly keep the breast cancer surgeon away. Six medical studies, published in the past year by Cornell researchers, report that apple extracts can prevent breast cancer by multiple mechanisms. Specifically, the studies show that natural substances found in apples decrease the number of tumors, size of tumors, and tumor growth rates in animal models. The more apple extract the animals were fed, the greater the reduction in cancer. Remarkably, the researchers found that the most deadly 'adenocarcinoma' form of breast cancer was found in 81% of animals not fed the apple extract, but in only 23% of the animals fed the highest dose of the apple extract. The same researchers found new substances in apple skins that also have anti-cancer activities," said Dr. Tabor.
"Green tea consumption may reduce your breast cancer relative risk by over 50%. Green tea is rich in potent 'polyphenol' antioxidants that protect your DNA from damage and shortening, reduce inflammation, reduce estrogen, and reduce breast tissue density. The recommended amount to consume is 2 to 4 cups per day, or you can take a green tea supplement," added Dr. Tabor.
While carrots, apples, and green tea are three easy anti-breast cancer food items, FIGHT NOW contains a full listing of even more powerful foods to enjoy or to eliminate to lower risk. High consumption of one particular group of foods may increase relative risk of breast cancer by up to 253%.
Internationally-recognized breast cancer nurse Lillie Shockney, RN, BS, MAS, who has survived breast cancer twice, emphasizes, "We have control over how we nourish our bodies. This means that we may be able to reduce our breast cancer risk by making smarter choices. The same applies for our families. We want to reduce the risk of our daughters ever hearing the words, 'You have breast cancer.'"
Developed during the past two years with new medical research reviewed from leading hospitals around the world, FIGHT NOW helps readers take immediate action to start lowering breast cancer risk with:

The top ten foods that may reduce risk of breast cancer
A simple anti-breast cancer vitamin lab test to reduce risk by up to 70%
The foods to eliminate that may increase relative risk by up to 253%
A juicy fruit bursting with antioxidants that could lower risk by up to 87%
An easy, clinically tested way to lose weight and belly fat, while reducing hunger, that could lower relative risk by up to 300%
A healthy oil that could lower relative risk by up to 94%
A simple lifestyle change that could lower risk of recurrence and risk of dying from breast cancer by up to 50%
Common breast cancer "myths" exposed including answers on cosmetics, breast implants, tight-fitting bras, and coffee in relation to breast cancer risk
A "7-Day Prescription for Healthier Breasts"
"I am a breast cancer survivor who just finished chemotherapy, but now I know how important my diet and lifestyle is to my recovery and saving my life after reading FIGHT NOW," commented Patti R..
During the past 100 years, doctors have focused primarily on drugs, surgery, and medical tests to fight disease. This has undoubtedly extended the average life span. In fact, modern medicine has nearly doubled the average lifespan since the early 1900's.
"We should have also included vigorous research into the power of foods and lifestyle changes to prevent and cure disease. The purpose of our medical research is to empower women to become proactive against breast cancer now with specific food and lifestyle choices. A woman's only alternative is to be reactive after a breast cancer diagnosis, or breast cancer recurrence. The choice is clear. We can fight now to change our future," said Dr. Tabor. Lillie Shockney, RN, adds, "I look forward to the day when breast cancer appears in medical books under the chapter titled, 'Cured Diseases.' Until then, let's take proactive steps to reduce risk where we can to save more lives (and breasts)."
Women interested in reducing breast cancer risk can download the FIGHT NOW book for free at http://www.fightBCnow.com.
To schedule an interview with Aaron Tabor, MD and Lillie Shockney, RN, or to request a press kit, please contact DrTabor(at)fightBCnow(dot)com.
About Aaron Tabor, M.D.
Aaron Tabor, M.D. is the author of FIGHT NOW: Eat & Live Proactively Against Breast Cancer. After graduating from The Johns Hopkins School of Medicine, Dr. Tabor devoted his career to helping people live a life they love through medical research. Over 1 million women have already trusted Dr. Tabor for better nutrition and health education. His prevention through nutrition research projects with leading hospitals include cancer, weight loss, younger-looking skin, hair, and nails, glycemic-index, cholesterol, pain, and hormonal health. Dr. Tabor educates other doctors about diet and lifestyle research as the Diet & Alternative Medicine Section Editor for The Journal of Medicine. He has authored numerous books, papers, and patents in the fields of medicine and nutrition. His breast cancer blog can be found at http://breastcancerfightnowbydraarontabor.blogspot.com. Dr. Tabor's recent co-edited book Nutritional Cosmetics: Beauty from Within (Elsevier) is the first medical textbook on "inside-out makeover" science—foods and supplements to make you look younger from the inside out. L'Oréal, Nestlé, and others contributed to this cutting-edge work. Dr. Tabor is Founder of Gene Facelift, a Johns Hopkins' biotech spin-off developing anti-aging and anti-wrinkle gene therapy drugs. Gene Facelift's drug technology is designed to replace damaged skin DNA in order to heal wrinkles and reverse the aging process.
About Lillie Shockney, RN, BS, MAS
Lillie has survived breast cancer twice and is a tireless champion for breast cancer advocacy. She is the University Distinguished Service Associate Professor of Breast Cancer and Administrative Director of The Johns Hopkins Breast Center. Additionally, Lillie is an Associate Professor in the Department of Surgery and Department of Gynecology at The Johns Hopkins School of Medicine, and an Associate Professor for The Johns Hopkins School of Nursing. She has a BS degree in HealthCare Administration from Saint Joseph's College and a Masters in Administrative Science from the Johns Hopkins University. Lillie has worked at Johns Hopkins since 1983 and served as the breast cancer center's Administrative Director since 1997. She is responsible for the quality of care programs, patient education programs, survivor volunteer team, community outreach at a local, regional and national level, and patient advocacy. Lillie is a published author on the subject of breast cancer as well as a nationally recognized public speaker on the subject. She has written twelve books and more than 200 articles. She serves on the medical advisory board of several national breast cancer organizations; is the ABC News Consultant on breast cancer; and, is the co-founder of a national non-profit organization "Mothers Supporting Daughters with Breast Cancer" at http://www.mothersdaughters.org. Lillie's numerous accolades include The Komen Foundation's national Professor of Survivorship Award; American Cancer Society's Voice of Hope Award; American Cancer Society's Lane Adams Award for Excellence in Caring; National Circle of Life Award; Pharmacia & Upjohn's "Unsung Hero" for breast cancer; Oncology Nursing Society's Award for Excellence in Breast Cancer Education; National Consortium of Breast Centers' Impact Award; Komen Award from the Maryland Affiliate; Avon Foundation's Spirit of Friends Award; American Plastic Surgery Society's Patient of Courage award; Yoplait's Breast Cancer Champion award; Oncology Nursing Society's Excellence in Survivor Advocacy Award; The Maryland Daily Record's Healthcare Hero Nursing Excellence Award; and, the National Health Network Service's Excellence Award. In 2010, she was inducted into the Maryland Women Hall of Fame. In 2008, The Johns Hopkins Board of Trustees made a decision to appoint Lillie to a chair as a University Distinguished Service Assistant Professor of Breast Cancer. This is the first time in the history of the institution that a hospital nurse has been appointed to a distinguished service designation. She serves as "Ask an Expert" for several breast cancer websites including Yahoo.com and The Johns Hopkins Breast Center's website. She chairs the National Consortium of Breast Centers QI Task Force. She is an active clinical researcher with a focus on quality-of-life issues for cancer survivors. She serves as Ask an Expert for several breast cancer websites including Yahoo.com http://health.yahoo.net/experts/breastcancer?in=0 and the Johns Hopkins Breast Center's website at http://www.hopkinsmedicine.org/avon_foundation_breast_center. She chairs the National Consortium of Breast Centers QI Task Force. She is an active clinical researcher with a focus on quality-of-life issues for survivors.
Discuss this information with your doctor to determine what is right for you. This info does not take the place of your doctor's professional advice, nor does it substitute for prescription medication, surgery, chemotherapy, radiation therapy, or any other medical treatment. Unless specified otherwise, risk reductions are reported as relative risks or odds ratios in human clinical, animal studies, or lab culture studies. FIGHT NOW is not associated with, or endorsed by, Johns Hopkins, The Komen Foundation, or other entities mentioned in this press release.
###