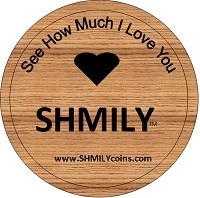 See How Much I Love You!
Winston Salem, NC (PRWEB) September 14, 2010
Everyone wants to feel loved--especially by the special people in their lives. SHMILY coins offer a simple, creative and playful way to surprise your loved ones with a token of love. Imagine their delight when they find the SHMILY in their shoe, wallet, pocket, or some other unexpected place with the message - "See How Much I Love You."
SHMILY coins are especially meaningful when a loved one can't be there in person, but wants the recipient to feel his or her love while away. When teens go off to college, soldiers are deployed, or parents leave for a business trip--they are always happily surprised to find a SHMILY tucked into their luggage. During times of trouble, stress, loneliness or pain, touching the SHMILY brings comfort and encouragement.
When couples and families take turns hiding the SHMILY for one another to find, it becomes a fun game of spreading love. The energy in a home quickly becomes transformed with laughs, hugs and joy when a SHMILY is regularly received by all.
SHMILY coins are inexpensive and priceless at the same time. Imagine the love and joy that you could create!
To read the Laura Hammonds' original SHMILY story, view photos, and to order your own SHMILY, visit: http://www.SHMILYcoins.com
###