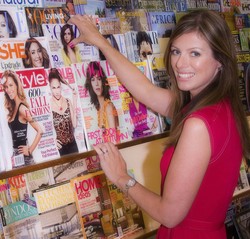 Being an art director for many years, I understand the dilemmas of tough budgets and the workload peaks and troughs that all magazines are faced with
(PRWEB) September 15, 2010
A design entrepreneur has launched newissuedesign.com, targeting publishing companies wishing to take a more flexible, cost-effective approach to design, helping them deal with the challenges posed by the current economy.
With a solid magazine and newspaper background that boosts many high-profile titles, Gemma Burgess, founder of newissuedesign.com, promises to deliver editorial projects to consumer magazines whilst easing the burden of publishers' budgetary constraints and varying issue sizes.
According to Gemma, companies such as newissuedesign.com offer publishers options that allow them to ride through any ups and downs by reducing fixed costs and providing hassle free, high-quality design on demand: "Being an art director for many years, I understand the dilemmas of tough budgets and the workload peaks and troughs that all magazines are faced with. However, designers are no longer bound by the need to be housed in the office space of publishers and I therefore decided to start up newissuedesign.com, where I can offer remote design, targeting any magazine that is interested in great design at a reduced cost. Although remote magazine design is still in its infancy, more and more companies are quickly becoming aware of its benefits allowing them to reach their deadlines and shave their costs". She adds, "I believe newissuedesign.com is the future. In a few years companies will have no regrets regarding the adaptability that outsourcing has given them".
One of the unique features of newissuedesign.com is that companies will not only get the benefit of a competitive rate but their editorial work will be designed directly by or under the direction of an accomplished magazine designer who has previously worked for a wide variety of titles some of which include CosmoGIRL!, Marie Claire and Glamour.
###