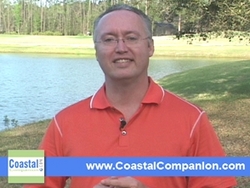 "I am cheap, I am easy -- and I am always available when I need me"
Kingsland, GA (PRWEB) September 27, 2010
"Everyone is always on the lookout for something fun to do with family or friends on the weekend", says Joe Talentino, publisher of Coastalcompanion.com. "What is a fun road trip for us or weekend getaway on the coast? Are there any fun festivals, concerts or events going on? Our weekly video podcast gives you suggestions of fun things to do on the coast."
Joe Talentino is actually a video producer by trade and has over 25 years of extensive experience in video production, broadcast television and multimedia. But now he has switched roles and is most often found in front of the camera as the host of the weekly podcast.
Why did he decide to change? The answer is simple. "I am cheap, I am easy -- and I am always available when I need me", explains Joe Talentino. More than once Joe has been approached at a store or at a festival by a loyal Coastalcompanion.com reader who recognizes his face from the web site. So far, he hasn't signed any autographs.
"I am just your "average Joe", says Joe. "I didn't start making our show to become an online celebrity. It's amazing to me that anyone recognizes me -- I never expected that. But I do love my job! I get to travel to beautiful places on the coast, visit fun festivals and talk to interesting people. So if I have to live with stardom and fame in order to do my job, so be it! I wouldn't trade it for the world!"
Every episode of the weekly podcast series has a theme. Topics include food and cooking, music festivals, nature, interviews with authors, filmmakers, naturalists and much more.
The podcast is distributed through a network of video distribution platforms including youtube, itunes, metacafe, veoh and a many others. The video podcast is also uploaded to the http://www.Coastalcompanion.com website.
Coastalcompanion.com offers quality content to residents and visitors who enjoy the coastal lifestyle. The audience is 35+ years old, mobile, educated, active on the Internet, and they love the coast from Myrtle Beach to Daytona Beach.
In addition to the weekly video podcast, Coastalcompanion.com also publishes a weekly newsletter. You can find more details about fun things to do on the coast on the web site, audio interviews, and other videos.
Company Information:
The Coastal Companion website focuses on events, festivals and happenings on the coast of South Carolina, Georgia and Northeast Florida - from Myrtle Beach, SC, to Daytona Beach, Fl, and all points between. In addition to the website and the weekly podcast series, Coastalcompanion.com also publishes a weekly newsletter. Other websites owned by Talentino Media include include http://www.iknowjax.com and http://www.CamdenHappenings.com.
###