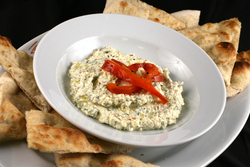 Columbus, OH (PRWEB) September 15, 2010
Craving a zesty treat this fall? Sample a complimentary Spicy Feta Dip with Pane Al Forno at BRAVO! Cucina Italiana (BRAVO!). All BRAVO! locations will offer this September 20 - 24 during Happy Hour at the bar with a purchase of $10 or more.
BRAVO!, a BRAVO|BRIO Restaurant Group concept, is introducing this impressive new appetizer, a creamy blend of Feta, garlic, fresh herbs, spicy peppers and lemon, which is served with fresh bread baked to order and they want to make sure everyone gets a taste!
No matter what your beverage of choice is, the Spicy Feta Dip with Pane Al Forno is great for sharing with friends at the bar. It pairs best with Sam Adams Boston Lager for guests who prefer beer, complementing the spiciness of the hops. BRAVO!'s Torre di Luna Pinot Grigio is an excellent wine pairing as it has enough body to stand up to the vivacious dip as well as the capability to cleanse the palate between bites. For those guests desiring a delicious cocktail, try our signature Strawberry Basil Limonata - the perfect sweet and spicy combination.
BRAVO! Cucina Italiana is a casual, white-tablecloth restaurant offering classic Italian food amongst the shadows of Roman ruins. The subtitle "Cucina Italiana" means Italian kitchen, in which all cooking is done in full view of the guest, creating the energy of a live theater. BRAVO's popular entrees include grilled steaks, chops, and made-to-order pizzas, pastas and house specialties, similar to an authentic 'ristorante' in Italy. BRAVO! is part of Columbus-based BRAVOIBRIO Restaurant Group. Founded in 1992, BRAVOIBRIO Restaurant Group currently operates more than 80 restaurants including BRAVO! Cucina Italiana, BRIO Tuscan Grille and Bon Vie Bistro. Please visit the Web site, BravoItalian.com for a list of locations, and to follow the restaurant on Twitter and Facebook.
###