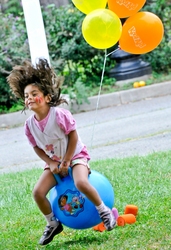 KaBOOM! Play Days encourage communities to come together for fun activities and to improve their local parks and playgrounds.
Washington, DC (PRWEB) September 13, 2010
With children between the ages of eight and 18 spending on average 7.5 hours a day in front of the television or computer, kids need a strong dose of good, old-fashioned, outdoor fun. To ensure that kids across the country get active and playful, national non-profit KaBOOM! is gearing up for the second annual KaBOOM! Play Days presented by Mott's.
KaBOOM! Play Days encourage communities to come together for fun activities and to improve their local parks and playgrounds. KaBOOM! Play Days run from September 18 – September 26, and families can check out the Play Days website to find events near them, or start their own. The website gives communities everything they need to host a great Play Day, and is full of classic games and simple improvement projects. The site also provides users with tools to help self-organize, recruit volunteers, invite attendees and receive event planning help.
KaBOOM! is the national non-profit dedicated to saving play, and last year, 1,254 communities hosted a KaBOOM! Play Day. More than 316,000 people participated in events, and afterward, participants shared event photos and stories
This year, even more communities are getting in on the fun, with almost 1,500 events registered. Kids across the country will be playing classic games such as Kick the Can, Red Rover, Red Light-Green Light, and Four Square, many of which are disappearing from children's lives. Then, once the events are over, deserving Play Day communities with the best improvement projects will be eligible to win one of several grants up to $10,000 to help them further improve their local park or playground.
Fun Play Day events include:
Noche de Divercion (Dallas, Texas) -- This community health center is organizing their second Play Day and will include a Health Fair component, because 85% of their patients have diabetes and 50% of their patients' children are overweight or obese. They've dreamed up a number of the original games that they'll play at their Play Day, including a giant game of dominoes.
Come Play the Horses Way! (Castalia, NC) -- This Play Day will be horses-themed. Every game will have a horse twist on it: relay races with stick horses, horseshoe toss, Horsey Simon Says, and a hay bale maze. Ribbons will be awarded for 2nd to 6th place and winner gets a small trophy...just like a real horse show.
Yachats Community Play Day (Yachats, OR) -- In addition to fun games this community will start construction on a tree house for the kids. The treehouse was designed by a group of local youth five years ago, but because of engineering, permitting, and fundraising challenges, it is only now that they are able to begin construction.
Pick a Day, Come and Play (Whitewater, WI) -- Parents and community members are invited to join in the school's recess every day for the whole week. The attendees are also asked to bring extra play equipment to donate to the school to create a "recess box" to be used to make recess more fun and playful for everyone.
And more! Anyone can look up a PlayDay near them.
The KaBOOM! Play Day program is presented by Mott's and made possible by the ongoing philanthropic support of the John S. and James L. Knight Foundation, as well as NFL PLAY 60. Operational support for the KaBOOM! Play Day program provided by National Environmental Education Foundation, Boys and Girls Clubs of America, and Marine Corps Community Services. Together with KaBOOM!, these organizations are working together to sign up thousands of communities to host events that support the importance of play in children's lives.
Why are Play Days important?

Almost 60% of all kids don't have a playground within walking distance of their home. And that number goes up to almost 70% in low-income areas.
Children today spend less time playing outdoors than any previous generation.
Lack of play is directly linked to increased childhood obesity -- one of the main issues facing children today.
Play enhances children's learning readiness, learning behaviors, and problem- solving skills. They're also happier and better able to get along with others.
By hosting a KaBOOM! Play Day, communities will not only ensure that their children get out and play for an afternoon, but they will help make their local park or playground an inviting place, where families can spend time together for years to come.
About KaBOOM!
Headquartered in Washington, D.C., KaBOOM! is a national non-profit organization dedicated to saving play. Through community building, the company is focused on giving every child in America a great place to play within walking distance. Since 1995, KaBOOM! has used its innovative community-build model to bring together business and community interests to construct more than 1,800 new playgrounds, skate parks, sports fields and ice rinks across North America. KaBOOM! also leads the "Save Play" campaign at saveplay.org, which funds a variety of resources, including an online community, free online trainings, grants, publications and the KaBOOM! National Campaign for Play, which includes Playful City USA and Playmakers – a national network of individual advocates for play. KaBOOM! also has offices in Chicago and San Mateo, Calif. For more information, visit http://www.kaboom.org.
About Mott's
Mott's, a brand of Dr Pepper Snapple Group (NYSE: DPS), is the nation's leading producer of branded apple sauce and apple juice. Since 1842, Mott's has proudly created delicious and healthy products for adults and children. Mott's continues to provide "simple solutions" for health and snacking to meet the needs of today's busy families. Mott's products include a variety of juice and sauce offerings like Mott's Plus, Mott's Natural, Mott's Medleys juices and Mott's for Tots juices. DPS is the leader in flavored beverages, marketing Mott's and 50 other beverage brands throughout North America. More information can be found at http://www.Motts.com or at http://www.drpeppersnapple.com.
About the John S. and James L. Knight Foundation
The John S. and James L. Knight Foundation advances journalism in the digital age and invests in the vitality of communities where the Knight brothers owned newspapers. Knight Foundation focuses on projects that promote informed, engaged communities and lead to transformational change. For more, visit http://www.knightfoundation.org.
About NFL PLAY60
In October 2007, the NFL launched PLAY 60, a national youth health and fitness campaign focused on increasing the health and wellness of young fans by encouraging them to be active for at least 60 minutes a day. Designed to tackle childhood obesity, NFL PLAY 60 brings together the NFL's long-standing commitment to health with partners like KaBOOM! In addition to national reach through PSAs and online programs, PLAY 60 is also implemented at the grassroots level through NFL's in-school, after-school and team-based programs.
# # #