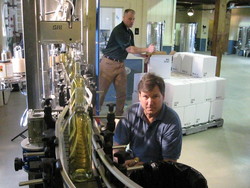 Alexandria, VA (PRWEB) September 14, 2010
Vint Hill Craft Winery in Northern Virginia is releasing their first vintage of red wines (Merlot) made by their "vintners" (from wine novices to restaurant owners and chefs to individuals starting their own winery to bridal couples). Over the next few weeks new varietals (Cab, Syrah) will be available at the tasting table also, allowing the public to taste and contrast various varietals from California, Washington State and Virginia in one sitting.
At Vint Hill Craft Winery individuals can make their own barrel of wine (300 bottles) under the expert guidance of award winning winemaker, Chris Pearmund.
Individuals, chefs, restaurant owners, etc. work alongside the expert winemaking team to craft wine, the experience includes:
Selection of grapes from California, Washington State or Virginia, barrel and various wine processing options.
Crushing, fermenting, testing, bottling, labeling.
Tasting barrel periodically through the process learning first hand how the craft of winemaking enhances the wine as it evolves.
Creation of label.
The result is 300 personalized bottles for individuals to share with friends and family or for restaurant owners/ wine stores to sell or for the bride and groom to serve at their wedding and give as gifts to guests with their own personal label.
Experience also includes a full year of hands-on education in winemaking (good for those considering starting their own winery).
For those who don't want a full barrel of wine, Vint Hill Craft Winery has options for creating a ½ barrel or being a part of a team that will net you 2 cases of wine that you helped create (and the purchase of up to 5 more at a 50% discount)!
Vint Hill Craft Winery is open to the public for tasting also. The tasting adventure is different than most wineries, as the public gets to compare all the wines made at Vint Hill Craft Winery sourced from California, Washington State and Virginia and learn how different regions and the nuances of winemaking change a wine. Only place on the East Coast you can compare and contrast so many different wines.
###