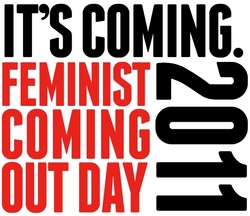 Feminism is a lifelong pursuit of justice ... One of the goals of this [event] is to make feminism a label people are proud of.
Cambridge, MA (PRWEB) September 29, 2010
After successfully piloting a campuswide Feminist Coming Out Day at Harvard University during the 2009-2010 school year, Lena Chen (Harvard College '10) and Abby Sun (Harvard College '13) will expand the event to high schools and colleges throughout the United States in 2011.
Chen originally conceived of the event when she served as the Women's Events & Outreach Chair of the Queer Students & Allies, the school's undergraduate LGBT organization. Inspired by National Coming Out Day, a holiday which encourages awareness of issues affecting the queer community, Chen planned Feminist Coming Out Day in collaboration with the Radcliffe Union of Students, the feminist student group of which Sun is currently co-president.
The 2010 inaugural event encouraged campus community members to publicly declare their commitment to gender equality through donning apparel and buttons stating "This Is What A Feminist Looks Like". The celebration culminated in a Feminist Portrait Project displaying photos of student leaders, professors, and community members discussing their commitment to feminism. Speaking to The Harvard Crimson, Sun said of the event, "Feminism is a lifelong pursuit of justice, and a lot of it has to do with spreading awareness. One of the goals of this exhibit is to make feminism a label people are proud of."
The 2011 Feminist Coming Out Day will once again be celebrated on March 8, International Women's Day, as a call to arms for young people who continue to recognize the need to fight for gender equality. As the organizers of International Women's Day note, "Many from a younger generation feel that 'all the battles have been won for women' while many feminists from the 1970's know only too well the longevity and ingrained complexity of patriarchy ... The unfortunate fact is that women are still not paid equally to that of their male counterparts, women still are not present in equal numbers in business or politics, and globally women's education, health and the violence against them is worse than that of men."
Chen notes that there is a great need to include in this battle those who are not part of the heterosexual, middle-class, and White mainstream -- the very women who felt excluded by the second-wave feminist movement. Chen also emphasizes that feminism today is not merely a cause that seeks to benefit women, but is instead a social justice movement seeking to eliminate gender-based roles and expectations for all people. "Norms about masculinity and what constitutes a 'real man' are as harmful and limiting as the traditional stereotypes that surround femininity," she says. "Those who don't opt in -- whether because of their sexuality or their appearance or their career choice -- often face stigmatization or even violence for defying gender roles."
In the upcoming months, Chen and Sun will organize grassroots support among feminist and LGBT student organizations throughout the country. Chen, a well-known blogger who is featured in More Magazine's November 2010 issue on young feminism, says that an integral part of their approach will involve leveraging new and social media, which has been embraced by their generation of activists. By designing a central event website, students will be able to collaborate with each other to brainstorm, plan, and publicize events on their respective campuses. The website will also feature testimonials from young activists on the issues that led to their individual feminist awakenings.
Want to join the revolution? Follow the event's progress on Twitter, Facebook, and YouTube.
###