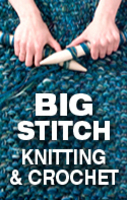 The company focuses on style-conscious customers who want to knit big, beautiful, fun and fast.
Shaker Heights, OH (PRWEB) September 15, 2010
History proves that when slow economic times loom, people tend to retreat back to their homes and take on DIY projects. And with the economy taking a turn for the worse, recessionistas are looking for stylish fashions and home décor without blowing their budget.
The combination has created wildly popular interest in BagSmith (http://www.BagSmith.com), a Cleveland-based company that produces knitting and crocheting kits and accessories that are unlike anything you've seen before.
BagSmith creator Becca Smith has something for this expanding group of DIY-ers who aren't interested in the knitting and crocheting projects done by their grandmothers. The company focuses on style-conscious customers who want to knit big, beautiful, fun and fast. Smith is the author of "Big Stitch Knitting: Finding Your Inner Stashionista", now available from All-American Crafts Publishing.
The beautifully illustrated book showcases more than two-dozen stunning patterns created by Smith and her BagSmith colleagues using Big Stitch knitting needles. These lightweight super-sized needles are made by Ohio craftsman John Higgins. Smith's patterns allow knitters to create gorgeous, richly textured garments and shabby chic home and fashion accessories in no time, using multiple fibers and needles ranging in length from 16" to 32".
And, with the virtues of compassion and conservationism becoming a norm with Americans these days, BagSmith is developing products that serve a much bigger purpose. The company is launching a series of new products that are more socially responsible.
BagSmith developed Big Stitch Yarn, a new type of yarn created from alpaca "seconds" to be used with the Big Stitch knitting and crocheting line of products.
"Traditional alpaca yarn is spun with the fiber from an alpaca's back and underbelly. But, alpaca 'seconds' are the fiber that is sheared from the animal's neck and legs," Smith explained. "It has not been used in the past because the length of the fiber was too difficult to spin into yarn, so it's often just wasted."
But BagSmith worked closely with a local mill operator in Ohio, and members of the Ohio Alpaca Breeders Association to develop a new method of spinning this luxuriously thick fiber. The ending result is a unique and lush product that helps to positively impact the Ohio-based alpaca breeding industry, while getting the most use out of the animal's coat.
BagSmith sells patterns for eco chic home accessories that incorporate the use of the Big Stitch Yarn, while also selling actual "bumps" of this unique yarn.
Social responsibility is also a theme with BagSmith's "Bag of Many Colors" purse kit, which features yarn made of recycled strips of silk fabric tied together mixing a variety of colors and textures. The recycled yarn is made by workers in Nepal and Indonesia, and the purchase of this product provides safe shelter, health care and education for families in those countries.
The customer can create this BoHo-like design with all the pieces of the kit, which include a spool of nylon cord, leather liner, leather strap, five African brass beads and instructions.
New generation knitters are also exploring the newest rage of the craft: Tunisian crocheting. Originally known as the afghan stitch, this unique cross between knitting and crocheting is experiencing a revival.
BagSmith introduces their own specialty Tunisian Crochet Hook that complements their line of Big Stitch products. These one-of-a-kind, 24-inch-long crochet hooks accommodate up to 90 stitches of bulky yarn to produce a more dense stitch that creates a beautiful cloth.
Handmade of maple by Higgins, these hooks can be used in BagSmith's Tunisian Crocheted Kits for a scarf, baby blanket, rug, lap blanket or shawl.
About BagSmith
BagSmith owner Rebecca Smith is a lifelong knitter who created the BagSmith line of unique products featured at more than 600 independent yarn shops throughout the United States, Canada, the UK and France.
Big Stitch Knitting and other BagSmith products are available at http://www.bagsmith.com or by calling the company toll-free at 888-879-7224. A list of yarn stores carrying BagSmith products can be found on the website.
# # #