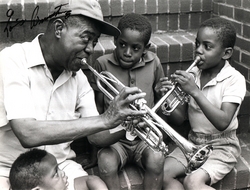 From stirring up political debates and breaking cultural barriers to creating a deeper sense of community, music has an ongoing presence in America.
Washington, DC (PRWEB) September 23, 2010 —
Tracing our nation's past, music has always been a great influencer. From stirring up political debates and breaking cultural barriers to creating a deeper sense of community, music has an ongoing presence in America. With Gozaic.com, travelers can discover hidden places of interest and learn more about better-known sites, including ones connected to our musical history. Gozaic, an online community for those who seek authentic culture- and heritage-based experiences, has gathered a few noteworthy, music-themed destinations to inspire travelers to plan their next adventures.
Historic Tabor Opera House in Leadville, Colo., was built in just 100 days and provided lively, sophisticated entertainment to pioneers who missed the arts scene back East. Horace Tabor, a self-made man who served as the first mayor of Leadville and lieutenant governor of Colorado, had the building outfitted with Andrews patent opera chairs, elegant Victorian décor and plush carpeting. Big names such as Buffalo Bill, Houdini and the Metropolitan Opera Co. made their way to the Tabor Opera House. The building was restored during the 20th century and now features a museum, tours and performances.
The Music Hall in Portsmouth, N.H., dates back to 1878, when members of the prominent Pierce family decided to rebuild the city's only entertainment venue after it burned to the ground the year before. The hall drew operas, drama, dance and traditional vaudeville fare from as far as Europe before serving as a movie theater starting in the mid-1960s. Today, it is a non-profit community arts center welcoming 100,000 visitors each year to its acclaimed music, film, theater and dance productions.
The Museum at Bethel Woods in Bethel, N.Y., pays tribute to the legendary Woodstock summer music festival of 1969. Located where the historic, four-day concert took place, the museum features an interactive multimedia exhibit and a high-tech theater that screens some of Woodstock's best performances and features never-before-seen festival footage. Visitors can catch live concerts at the Bethel Woods Center for the Arts, situated on the same grounds as the museum.
Louis Armstrong House Museum in Corona, N.Y., brings to life the jazz musician's humble New York City home, outfitted with the same furnishings from the time the Armstrongs resided there. In 1943, Louis and his wife, Lucille, chose to settle in this house in the Queens neighborhood of New York rather than moving to a more luxurious abode fit for an international jazz icon. The glossy, turquoise, state-of-the-art kitchen is just one stand-out feature of the house. Hundreds of tape recordings, featuring Louis practicing trumpet in the den, eating in the dining room with Lucille and joking with friends, amplify the authentic feel of a visit to the house.
Graceland in Memphis, Tenn., is the site of all things Elvis. Tour the Graceland mansion and see a special collection of Elvis' gold records and awards, career mementos, stage costumes, jewelry and photographs. The King of Rock and Roll and members of his family are laid to rest in Graceland's Meditation Garden. Other highlights from the superstar's sanctuary include Elvis' Car Museum, a peek inside two of his luxurious custom jets and an exhibit focusing on his military service.
About Gozaic
Gozaic.com is the new online community and travel planning resource for heritage and cultural travelers. Gozaic connects travelers to meaningful and authentic locations across the country; helps them learn about new destinations that match their interests; offers guided tours and cruises; and gives them a place to share their travel experiences. Gozaic is the website of Heritage Travel, Inc., a for-profit subsidiary of the National Trust for Historic Preservation. For more information, visit http://www.gozaic.com, or contact 1-877-694-6924 or info(at)gozaic(dot)com.
###