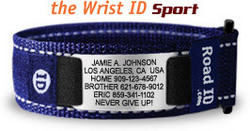 Portsmouth, NH (PRWEB) September 15, 2010
Coastal CPR & First Aid, LLC introduces the Coastal CPR & First Aid Shop offering CPR & First Aid products online.
Do you need a First Aid kit for home, work, school or sports? Are you often out and about without your wallet or other forms of ID? A full line of First Aid kits from Genuine First Aid are now available. These kits feature an easy to use pouch system to locate needed items quickly and are inexpensive to purchase and restock. Road ID is a bracelet, anklet or shoe ID that is customized with your personal contact or medical information. Comfortable to wear and more subtle than most medical alert jewelry. Road ID can easily identify you or your child in an emergency and can let emergency responders know how to assist and treat you in an emergency. Be prepared with First Aid kits, Road ID and CPR & First Aid training from Coastal CPR & First Aid.
###