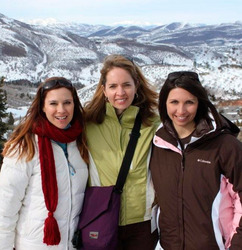 The Vacation Gals truly walk the walk when it comes to travel, taking at least 45 trips among them for business and pleasure annually.
Carbondale, CO (PRWEB) September 20, 2010
One year ago today, The Vacation Gals launched their travel website, covering vacation destinations ideal for family travel, romantic weekends and girlfriend getaways, and offering plenty of travel tips to make your next trip go more smoothly.
The master mom-minds behind The Vacation Gals? Beth Blair, Jennifer Miner and Kara Williams are the three travel writers -- and mothers of young children -- who blog several times weekly at the website that has garnered recognition from the North American Travel Journalists Association ("Award of Merit") and the 2010 Bloggies awards (finalist in the Best Travel Blog category) just months after the website's inception.
To celebrate a successful first year on the web, the Gals are giving away a $200 travel voucher at HotelClub.com. Entering to win this random giveaway is easy; simply click on over to The Vacation Gals and leave a comment on the giveaway post.
Also in celebration of their one-year anniversary, the Gals are offering 30 percent off their display ad rates. Mention this press release when making an inquiry through October 15, 2010, and you'll get the 30-percent-off deal. Learn more on the Gals' Advertise with Us page.
Want still more ways to jump on board The Vacation Gals train? Consider these options:
Hire The Vacation Gals: All three women are experienced speakers and panelists, covering topics ranging from social media, to travel writing, to SEO. For example, Williams spoke at the PRSA Travel & Tourism Conference in Aspen in regard to "Reaching Online Influencers," while Miner is set to cover "SEO with Soul" at the annual Type-A Mom Conference in Asheville, North Carolina next week. Blair presents "Pitch from Your Passion: Get Paid to Write about What You Love" at Iowa's I_Blog Conference in November.
In regard to providing travel content, the Hilton hotel brand Homewood Suites has contracted with the Gals to write monthly posts for SuiteTrip.com for the past year. The Gals are the travel experts at the website HybridMom.com, contributing articles every six weeks to the popular work-family site for women, and the threesome has written articles for Fodors.com.
Interview The Vacation Gals: As travel writers themselves, the Gals understand the need for quotable sources and entertaining sound bites. They have been quoted in travel stories on CNN.com, MSNBC.com, FOXNews.com and the Chicago Tribune, among other newspapers and websites. Topics have ranged from packing tips and airplane food to solo vacations and Thanksgiving travel. Let the Gals help you make your next story especially insightful, with firsthand information from travelers in the know.
The Vacation Gals truly walk the walk when it comes to travel, taking at least 45 trips among them for business and pleasure annually. They welcome inquiries from fellow journalists, corporations, websites, conferences and anyone else looking to make a meaningful travel-industry connection.
TheVacationGals.com launched September 20, 2009. It has a Google Page Rank of 5 and an Alexa ranking of 106,044 (9/16/2010). It receives about 14,000 unique visitors monthly, delivering roughly 28,000 page views a month. The threesome also operate The Spa Gals. Learn more on the Gals' About Us page.
###