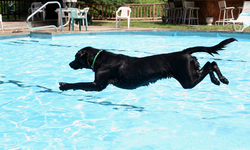 Canine Club Getaway, recently featured on 'The CBS Evening News With Katie Couric,' will hold its 2011 Getaway June 25-29 in Lake George, NY, with a host of dog-friendly activities and exciting new seminars.
Lake George, NY (PRWEB) September 22, 2010
Garnering national attention after being featured on The CBS Evening News with Katie Couric, New York's Canine Club Getaway announces its dates for 2011 along with an extended program of classes, activities and seminars. The ultimate, all-inclusive resort vacation for dogs and the people who love them will return to Lake George, NY for third annual Getaway, to be held June 25-29, 2011 – dates that are, by popular request, "teacher friendly."
Providing a one-of-a-kind vacation experience, Canine Club Getaway brings together a staff of top trainers and dog sport instructors, behavior experts, a veterinarian and even a doggie talent agent to create a dream vacation for dogs and dog lovers everywhere. In addition to the usual round up of dog-friendly activities – such as agility, swimming (and yes, dogs are allowed in the pool), Frisbee, flyball, rally obedience, doggie skateboarding, scent detection and Canine Good Citizen and Therapy Dog prep classes and testing – 2011 will bring a host of new offerings, including Canine CPR, The First Ever Doggie Scavenger Hunt, Getting Fit With Fido classes, seminars on Animal Acting and Grieving for a Lost Pet, and more.
Whether you prefer active days filled with swimming, hiking and agility or lazy, dog-day afternoons lounging by the pool, doing crafts or just sitting in the grass admiring the stunning mountain vistas, Canine Club Getaway has something for everyone. Of course, while dog activities abound – with dogs welcome everywhere from the seminars to the pool to the dog-friendly section of the dining room – Canine Club Getaway caters to humans, as well, with two-legged guests enjoying lovely rooms with private baths, gourmet dining, horseback riding, nightly "Yappy Hour" and an on-site spa.
"It's all the fun you remember from summer camp, but with resort accommodations for the grownup in you who can't go without air conditioning, private baths and wi-fi," explain founders Janice Costa and Carole and David Kralstein.
"Our dogs are an important part of our family, and we want to share all the best parts of our lives with them – including our vacation! And with our 2010 Getaway drawing guests from all over the U.S. and Canada – including Steve Hartman from The CBS Evening News with Katie Couric who brought his own dog Scout – it's clear that we're not alone in this!" Costa and Kralstein note.
"There's no doubt that vacationing with your dog is a growing trend," adds Costa. "Spending time with your dog soothes the mind and the spirit, and also offers real health benefits like lowering blood pressure. In fact, we've added a class this year on exercising with your dog because everyone knows it's easier to get fit with a buddy, and dogs are great exercise partners!"
Kralstein adds, "For teachers and educators who could not attend previous Getaways due to scheduling, we've planned this year's event for after school is out. We've gotten so many requests from teachers, and knowing how hard they work, we wanted them (and their dogs) to have the chance to experience this unique dog vacation."
For the third year in a row, Costa and Kralstein are also partnering with local animal charities and rescue groups to raise funds for these organizations. "For each guest who comes to us referred by an animal charity or rescue group, we will donate $50 to that group, and will make them one of the beneficiaries of our Silent Auction. We'll also distribute their literature to our guests to help raise awareness about their organization," they note.
Attendees who sign up prior to February 1 will receive an Early Bird-Dog Discount.
For more information, or to download an application, visit http://www.canineclubgetaway.com or call 888-K9-CLUBG (888-592-5824); for the latest updates, join Canine Club Getaway on Facebook.
About Canine Club Getaway:
Canine Club Getaway was originally conceived by five Long Island, NY-based dogs in an effort to avoid being kenneled during vacation. With the help of their humans, they established what they've dubbed "any dog's dream vacation," with a host of activities that dogs and humans can enjoy together. From agility, lure coursing, swimming, hiking, flyball and Frisbee to trainer- and veterinarian-hosted seminars, gourmet dining and nightly Yappy Hour, CCG offers the ultimate all-inclusive vacation for dogs and the people who love them. CCG actively supports animal charities and rescue groups.
Contact:
Janice Costa
Canine Club Getaway
888-K9-CLUBG (888-592-5824)
###