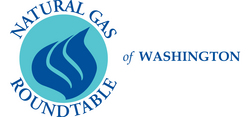 Washington, DC (PRWEB) September 15, 2010
Recent regulatory changes require more stringent emissions standards for marine vessels. And, new marine engine technology allows natural gas to be used as a primary or alternative fuel source. As a result of these trends, natural gas demand for the marine sector is poised for significant growth, according to Guy Caruso, senior advisor in the CSIS Energy and National Security Program. "Natural gas is poised to play a pivotally important role in the US and global energy and environmental outlook," Caruso said. Caruso served as Administrator, Energy Information Administration (EIA) from July 2002 to September 2008. He spoke at the Natural Gas Roundtable's September 9 meeting.
Also speaking at the meeting was John Hatley, Americas Vice President, Ship Power for Wartsila North America. "Owners of marine vessels are considering natural gas as a preferred fuel in our emissions sensitive high population areas; along our crowded coasts and inside busy ports. Here we see every day; workboats up to large commercial ships of all sizes, and cruise vessels," Hatley said. "These engines are often extremely large-scale, ranging from a low of 3,000HP to over 100,000 HP, and are highly energy intensive. Somewhat unknown about marine is that it is by far the most efficient mode of transport, much better than truck, rail, or air. With enduring values for sustainability and a low carbon footprint, society will likely assure long term future growth for marine cargo. Coupled with this driver, marine operators are closely scrutinizing the possible transition to natural gas in order to achieve a win-win; emissions reduction and operational savings."
Globally, the commercial marine market consumed during the recession year of 2009 nearly the equivalent of 15 Tcf (trillion cubic feet) of natural gas. As about 8% of the world's marine shipping involves trade with the US, nearly 1.2 Tcf of natural gas represents the 60,000 vessel calls made at American ports during the year. In the near term, estimates show that a realistically achievable level for the United States marine market demand for natural gas approaches 246 Bcf (billion cubic feet) over the next half decade, with great potential for additional growth.
Ever tighter marine emission environmental requirements are driving change as new rules are implemented over the next few years. These new environmental rules present compliance challenges for traditional diesel engines, which would require space consuming and expensive after-treatment devices to clean up exhaust plumes. This is in stark contrast to natural gas engines, which provide emissions reduction at the point of combustion because of the ultra-clean gas burn.
"The marine market for natural gas represents an incredible opportunity for the U.S. to reduce emissions on the water and in port as well as improve the economy by making use of our abundant and domestic natural gas supplies," said David Sweet, President of the Natural Gas Roundtable. "The development of unconventional gas reserves will make vast new quantities of natural gas available that can readily serve the marine sector."
http://www.csis.org; http://www.wartsila.com/us; http://bit.ly/bO9D5B
The Natural Gas Roundtable is a non-profit group formed to advance the dialog on issues regarding natural gas and energy policy.
###