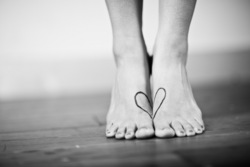 "Our bodies are walking works of ART."
Los Angeles, CA (PRWEB) September 15, 2010
In today's society there is an unrealistic standard of beauty. Body heART is designed to challenge the current media structure and unrealistic beauty ideal, by offering profound, un-retouched images of women who love their bodies NOW.
The campaign, created by Amber Krzys, features women of all shapes, sizes, races and ages celebrating the body they currently have. Each participant, or "Positive Role Model", is photographed by Krzys herself or Courtney Lindberg, with a hand-drawn heart of her face and favorite body part. After the shoot, the women fill out a 5-question interview that offers insight into why they love that body part, how they take care of themselves and how they handle the current media pressure to be thin. Each month Body heART highlights one Positive Role Model and features her interview, photos and video on the website.
Body heART goes where others are afraid to tread by using un-retouched photos to demonstrate how gorgeous women are and how unnecessary retouching really is. Krzys says, "Our current model of beauty is based in illusion. There isn't one image released in the press without some form of retouching. This sends a message that we are not enough as we are. Body heART is changing that. Body heART is based in the belief that our bodies are walking works of ART meant to be celebrated and valued."
We welcome any women into our campaign who are willing to stand forward and share what they love about their bodies. Currently photo shoots are based in Los Angeles; however, special arrangements can be made to host a Body heART photo shoot in other locations. For example, Body heART will be at Express MiE in Tempe, AZ on October 10, 2010 in honor of Love Your Body Day!
For more information or to join our campaign visit http://www.bodyheartcampaign.com.
Amber Krzys is passionate about being her best self and helping others to do the same. Her company, The NOW Workshops, offers presentations, coaching and workshops devoted to learning to love what you've got NOW. Love Your Body NOW is the most popular workshop and is made from Amber's first-hand experience of letting go of the "perfect body" game and embracing her true beauty. Body heART formed out of this workshop and is providing women a way to make peace with what they see in the mirror.