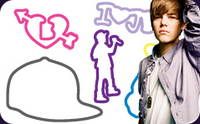 When we were presented with the opportunity to align our brand with the biggest pop star in the world we were excited." Said Robert Croak, BCP's President. "This pack is a great way for kids to enjoy their Bieber fever; it has even spread around our offic
(PRWEB) September 13, 2010
The Hottest Pop Star on earth has teamed up with the Hottest Fashion Accessory: Silly Bandz is releasing the most popular pack of Silly Bandz to date: The Justin Beiber Silly Bandz.
On Saturday September 18, 2010, The Justin Bieber Silly Bandz will be released exclusively to 10 select Toys "R" Us locations nationwide.
On Monday, September 20th 2010 Justin Bieber Silly Bandz will be available at Silly Bandz retailers nationwide and online at http://www.sillybandz.com. "When we were presented with the opportunity to align our brand with the biggest pop star in the world we were excited." Said Robert Croak, BCP's President. "This pack is a great way for kids to enjoy their Bieber fever; it has even spread around our office." The 24 pack will include 6 shapes with 4 of each style; Headphones, Music Note, I Heart JB, Bieber Heart, Justin Singing and Justin's Hat.
About BCP Imports LLC's (http://www.sillybandz.com) branch Silly Bandz, created its $100 million toy empire through the sale of small rubber pieces of collectible jewelry. Silly Bandz, which hold their shape when not in use, come in a variety of shapes which include basic shapes, as well as holidays, seasons, animals, music, fantasy and sports shapes. Silly Bandz has the perfect band to meet any one person's unique personality. They have been traded, sold and gift wrapped as something for everyone including, but not limited to, ponytail holders, bookmarks and most notably, jewelry. Even celebrities like Sarah Jessica Parker and Mary-Kate Olsen have joined the legions of adoring fans. This simple, yet creative idea has captured the hearts of people of all ages.
For a list of the 10 Toys "R" Us locations that will be release the Justin Bieber Silly Bandz please visit http://sillybandz.com/bieber-bandz.html
# # #