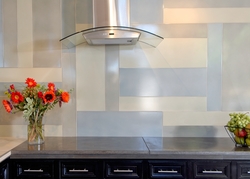 "When I first saw the clay body I loved the large-size, ultra-thin ceramic form factor," said Paul Burns, Fireclay's Founder and Chief Ceramicist. "We have created a refined color palette that so far has been extremely well received.
San Jose, CA (PRWEB) September 16, 2010
Fireclay Tile, the U.S manufacturing company that has brought superior quality, innovation and sustainability to the tile industry for the past 24 years, is pleased to announce its newest tile collection, Claymonde. Fireclay Tile's Claymonde are exquisite sheets of ceramic color, developed through a proprietary ceramic rolling process that allows Claymonde to be ultra thin yet also a durable, futuristic, lightweight, straight-edged large format wall tile. The ceramic sheet rolling method makes the tiles close to perfectly flat (~1/4" thick), while the ceramic fiber in the clay body provides some flexibility to the tile so that they can be pressed up against a flat wall surface. Fireclay hand glazes all colored pieces with its natural, lead free glazes.
Careful craftsmanship and sustainable manufacturing practices go into the glazing of the Claymonde tiles in Fireclay's day-lit, open air factory in Northern California. The glazes are made in-house and are lead free. All glaze over-spray is collected and recycled - any waste they do produce is inert and non-hazardous, as are the tiles themselves. The Claymonde glazing process is designed to minimize variation, thus enhancing the contemporary look of the product. Claymonde is now available in fourteen standard glaze colors with a sleek gloss finish that creates a shiny, semi-reflective sheen. Custom colors can also be created for larger projects. Claymonde is available in two standard sizes - 5¾ x 35¼" and 11 11/16" x 35¼" - and custom sizes up to 3'x6' are available for orders over 600 square feet.
"When I first saw the clay body I loved the large-size, ultra-thin ceramic form factor," said Paul Burns, Fireclay's Founder and Chief Ceramicist. "What it was missing, though, were vibrant colors that fit today's modern, contemporary market. We created a refined palette that so far has been extremely well received on both the east and west coast."
Claymonde is designed for both interior and exterior applications, and it is ideal for wall applications in commercial, residential, retail, and hospitality settings. So far Claymonde has been used on grocery store ceilings and walls, in restaurants on the exterior and interior, in residential bathrooms and kitchen walls, on fireplace surrounds, and in outdoor kitchens and mosaic designs.
For more information please visit the Fireclay Tile website.
About Fireclay Tile
Founded in 1986 by its Chief Ceramicist, Paul Burns, Fireclay Tile makes the highest quality, most durable and aesthetic hand-made ceramic materials using "old world" methods that are unique, affordable, and "green." The company is based in San Jose, CA where it manufactures and sells its products including Debris Series Recycled Tile, Vitrail Series Handmade Tile, Claymonde Ceramic Sheets, and Express Series Quickship Tile. Since inception, the company has been at the forefront of innovation in the ceramic industry, and today the company is proud to be sold nationally in over 130 tile and eco-friendly showrooms and be used by some of the most well respected brands including Whole Foods Markets. In addition, all products are LEED compliant and contribute to LEED's construction credits. Fireclay Tile's up-cycling and manufacturing efforts are also being supported by a grant awarded by the California Department of Conservation. Fireclay Tile aims to be a triple-bottom line company and ensure we take the environment into account in every decision we make and offer all of our employees a fare wage and benefits. To learn more about Fireclay Tile, please visit the company at http://www.fireclaytile.com.
# # #