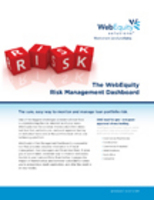 Omaha, NE (PRWEB) September 14, 2010
WebEquity Solutions™ LLC (WebEquity) is pleased to announce that it will host its 15th Annual Lending & Technology Conference September 27-28, 2010 in Omaha. This year's event will bring together industry leaders and Company experts who will share best practices for driving profitable Commercial (Commercial Real Estate, Commercial & Industrial and Small Business) and Agriculture (Ag) loan volume and risk mitigation throughout the credit life cycle. Attendees will also hear sage advice on how to optimize and achieve uniformity in their loan practices and proactively prepare for what's ahead on the regulatory horizon.
Session highlights include:

Financial Reform Bill Panel Discussion
Matt Williams, President of Gothenburg State Bank and ABA Vice Chairman Elect, Bob Hallstrom, General Counsel of NE Bankers Association and Tom Gronstal, Superintendent of Banking, IA Division of Banking will share their perspectives on the "Financial Reform Bill" as part of an interactive Q&A discussion.
"What Does 2011 and Beyond Hold for the Lending Industry?"
Dr. David Kohl, Agriculture Economics Professor Emeritus at Virginia Tech, will pose and answer critical questions on the minds of every lending institution executive as they strategize for 2011.
Risk Management: Current Trends and Best Practices
Ken Proctor, Managing Director of Cornerstone Advisors' Risk Management practice, will delve into a crucial discussion of the key credit risk issues facing banks today and provide guidance for establishing an effective enterprise risk management program.
"LOS Systems: Myths & Realities"
Neil Stanley, a 25 year banking veteran and President of Bank Performance Strategies, will lead a discussion of how financial institutions should leverage technology to gain substantial business benefits.
"Loan Pricing: Maximizing Profitability and Preparing for the Next Expansion"
Dan Roderick, Managing Director of ProfitStars, will drive dialogue on loan pricing strategies that will help banks improve profitability and compete more effectively in their local markets.
Attendees will also learn how to take full advantage of all of the features that WebEquity's on-demand lending software has to offer, illustrated with real-world examples presented by WebEquity bank customers and drawn from the Company's base of more than 600 customer institutions.
Additionally, lenders who are not already reaping the benefits of the WebEquity Risk Management Dashboard and those who would like to expand its use within their organizations will get a close look at the powerful visual tool for portfolio risk management and pre-and post-approval stress testing.
For more information about the conference please visit the Company's website or contact Dave McEvoy at 800.264.0787 ext. 230 or mailto:dave.mcevoy(at)webequitysolutions(dot)com
About WebEquity Solutions
WebEquity™ is the proven leader in on-demand lending software. More than 600 financial institutions and 10,000 lending professionals use WebEquity to automate and streamline their lending process and reduce operational costs, while making more uniform and profitable credit decisions. The company offers financial institutions a distinct advantage with a single solution that works for all loan types, an on-demand model that provides centralized, anywhere access, and the flexibility to configure the system so it fits their lending practices. WebEquity serves institutions in the U.S., Canada and Australia. For more information call 800.264.0787 or visit http://www.webequitysolutions.com.
Media Contact:
Tracey Frederickson
Public Relations
mailto:ttfrederickson(at)comcast(dot)net
603.880.7413
###