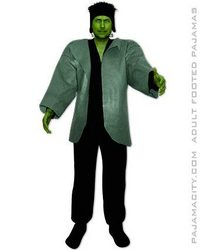 This is the easiest way to make fun and affordable Halloween costumes for adults.
Washington, DC (PRWEB) September 27, 2010
Pajama City's Footed Pajamas (http://www.pajamacity.com/) are the perfect solution for Halloween costumes. Available online in fleece or flannel, and sizes to fit tall and short and thin and thick, PajamaCity.com shows you how to easily turn footed pajamas into clever Halloween costumes like food, animals, and even cell phones.
The Shop by Height feature assures you'll find the perfect pair of men's and women's footed pjs for any teen or adult. The shortest pjs fit people 4'5" and above and the tallest will fit those that touch the sky at 7'0" tall. In fact, PajamaCity.com boasts the Worlds Tallest Footed Pajamas!
PajamaCity.com offers easy step-by-step directions to turn footed pajamas into a wide range of fun Halloween costumes. And after Halloween is over, you will have a great pair of pajamas to keep you warm and cozy.
Starting at just $30, Pajama City's Footed PJs are affordable for everyone, and as an added bonus will help keep the thermostat low during the winter months. Pajama City also offers a low flat shipping fee of just $3.95 for anywhere in the United States, and a generous 90 day return policy.
About Pajama City
Husband and wife team Gay Santelmann and Andrew Kontola started manufacturing footed pajamas in 1997 after Gay grew frustrated trying to replace her beloved 1983 red and white striped footed pjs which were finally falling apart. Unable to find high quality pjs that fit well, Gay decided to start making her own and Pajama City was born. Selling exclusively on-line, Pajama City now ships footed pajamas around the world, and has an active following on Facebook (http://www.facebook.com/PajamaCity#!/PajamaCity?v=wall.)
###