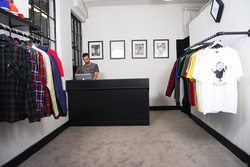 Washington, DC (PRWEB) September 27, 2010
Washington D.C. clothing brand DURKL releases their Fall 2010 line. The heritage based collection begins with classic American silhouettes and then remakes them with new fabrics and custom quilted patterns. DURKL then finishes them with mountaineering themed trims, and leather labeling creating an updated yet classic look. The collection is their largest to date, with 6 outerwear offerings, 4 flannel shirts, 4 fleece pieces, 6 hats, and over a dozen tees. Standout pieces include the Tri-paneled Frontside Jacket, Quilted Button-down and Montana Chino pants. The Fall 2010 Lookbook (attached) was shot on friends and family of the brand, in and around their home of Washington, D.C.
The collection is on sale now at both the EYE street warehouse and online at http://shop.durkl.com. The EYE street warehouse is located at 443 EYE (i) st nw Washington, D.C 20001.
###