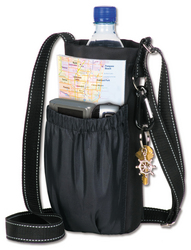 "I bought two of these for a trip to Disney. They were great!" Helen from New Jersey
New Port Richey, FL (PRWEB) September 22, 2010
People on the go who like to bring more than just a bottle of water with them now have a tote just the right size to hold all their items by their side for hands free traveling or on the go fitness.

This unisex-styled bag is just big enough to hold up to a 1.5 liter bottle of water but also has multiple compartments to hold identification, keys, cell phone, camera, maps and much more.
The pleated deep front pocket has an additional hidden security pocket for a passport or money.
The 54" easily adjustable strap allows it to be slipped over a shoulder or worn sling style for hands free traveling. Family friendly, the caddy fits a man, woman or child.
Stylish and durable metal clip to hold keys.
BVT Products designed the Go Caddy™ in luxurious Microfiber because not only is it lightweight but also very durable.
An included water bottle cooler sleeve keeps those drinks nice and cold.
Packs flat for traveling.
Whether embarking on a shore excursion, visiting a place where the local water maybe unsafe to drink, or heading to the gym, the stylish Go Caddy™ is the ideal carry all. Order today at http://www.thegocaddy.com for $19.99 plus $4.95 shipping and handling Or call (727) 834-8944.
CONTACT: Vicki Forster at 727-834-8944
BVT Products, 8143 Brumby Court, Trinity, FL 34655
http://www.bvtproducts.com
###