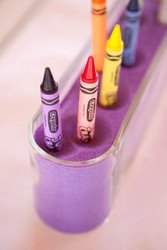 Sand play is open-ended and allows children the freedom to build and strengthen development of their small and large muscle motor skills, eye-hand coordination, mathematical, vocabulary and socialization skills
Grapevine, TX (PRWEB) September 29, 2010
Crayola's new soft and ultra-high quality colored play sand transforms an ordinary school project into a colorful bed of creativity, in fun and playful hues. And thanks to 5-pound "mom-friendly" buckets featuring an easy-to-carry handle, storing the colored play sand in organized containers at home or in school is a snap. The sand is great for art projects to add a blast of color but don't worry, the vibrant colors won't leave any stains on the hands.
Colored sand can be used for arts & crafts projects, sandbox play areas, sandcastles, wedding sand, school projects, fish bowls, terrariums, floral arrangements, kids activities and more.
Colored sand is being talked about on mommy blogs and on Twitter. A recent one word tweet, FUN, by @bakerella, who writes a popular blog about fun and easy baking, sent a flood of visitors to check out the new Crayola Colored Sand Store website. As the word spreads through social media and mommy blogs, Crayola Colored Sand is sure to be an even bigger hit with the kids.
Early childhood development experts agree that sand play is one of the most important and beneficial activities for children to engage in to develop a wide variety of motor, spatial and social skills. "Sand play is open-ended and allows children the freedom to build and strengthen development of their small and large muscle motor skills, eye-hand coordination, mathematical, vocabulary and socialization skills," said Cheri Sterman, director of child development, Crayola.
So during this school year, open the doors to your child's imagination and make playtime more colorful with Crayola Play Sand. Available in pink, purple, blue and green at select WalMart, Meijers, and Toy's R Us stores nationwide.
Crayola Colored Sand can now be ordered from our online store, and we also encourage everyone to leave comments and post pictures of their colored sand projects on our blog. Also listed on the site are 101 creative ideas and projects that can be made with the colored sand.
###