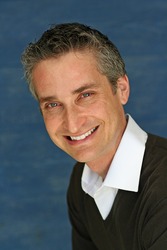 Chicken Soup for the College Soul.
Los Angeles, CA (Vocus) September 14, 2010
Los Angeles-based motivational speaker Scott Greenberg will give the keynote address at the UCLA New Student Welcome and BBQ on Monday, September 20, 2010 at 4:00pm in Drake Stadium. UCLA expects between 6000 and 7000 new students to attend. Other speakers will include University Chancellor Gene Block and USAC President Jasmine Hill.
"As a UCLA alumnus, I'm honored to come back to campus to speak the freshman class," says Greenberg. "I want to help them have as great an experience at UCLA as I had." Greenberg will talk about building confidence, having fun on campus and the importance of community service. "Coming to college was exciting, but admittedly, quite scary. I want to assure new students that they deserve to be there. They already have everything they need to thrive."
The event is part of UCLA's "True Bruin Welcome," which is a week of activities to help new students make the transition to college. After Monday's welcome ceremony, students will take part in the UCLA Volunteer Day, leading community service projects throughout the Southland. Greenberg will discuss the importance of service leadership and encourage freshmen to participate.
"For too many students, college is about personal ambition. Community service is an afterthought. I want them to see that by helping solve other people's problems, it will give them the perspective to better manage their own."
Though Greenberg speaks primarily to businesses, he is also a well-known college speaker. Recent college appearances include Long Island University and College of the Ozarks.
About Scott Greenberg:
In 1992 Scott Greenberg dropped out of the New York University Graduate Film School after being diagnosed with cancer. Inspired by his grandmother, a "Schindler's List" holocaust survivor, Scott beat the disease and went on to run the Los Angeles Marathon to raise money for cancer research. Since 1996 he has been a fulltime motivational speaker on the subjects of leadership, resilience and peak performance. Clients include Nike, the Jet Propulsion Laboratory and the United Nations. He has written three books on leadership and is a contributing author to "Chicken Soup for the College Soul." Additional information is available at http://www.scottgreenberg.com.
# # #