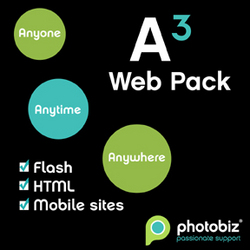 Greensboro, NC (Vocus) September 14, 2010
Driven by the unprecedented explosion of Social Network Media, small businesses, especially services such as professional photographers must refine their internet marketing. As iPhone's, iPads and Smartphones are becoming more popular worldwide, Photobiz.com has accommodated our products to fit their business needs by creating the A3 "Anyone, Anytime, Anywhere" website template package. Building an "Effective Web Presence" is essential to internet marketing success.
A Flash template, HTML mirror and a Mobile template are combined so that a website can be accessed regardless of the devise used to enter the website. Anyone that is trying to view a website from an iPad, Blackberry, Dial-up Connection, or a computer without Flash; will not be able to view a Flash website. With a PhotoBiz HTML mirror site, our customers will broaden their online visibility to ANYONE from ANYWHERE using ANY DEVICE. The Mobile template was built specifically to optimize viewing the website by an iPhone user.
Building the Flash template automatically populates the HTML mirror and Mobile template with content. Any change made to the Flash template will be instantly applied to the companion templates when the Flash site is published to the internet. The system that PhotoBiz.com uses will direct the visitor of the website to the appropriate template without the user having to set up anything at all. For purely esthetic reasons some customers might choose to build a HTML Splash Intro page. This will offer greater graphic flexibility and allow the viewer to choose which template to enter.
The A3 Anyone, Anytime, Anywhere Package benefits our customer's overall web presence with powerful internet tools such as proprietary Search Engine Optimization (SEO) that gives their websites a competitive advantage. PhotoBiz.com offers a Smart Light Box where nearly anything can be embedded on to a website. For additional fees sub-domains and Mini-sites can be added to an account establishing a network of sites, all working together for outstanding internet recognition and accessibility.
As photographers continue to build their Social Networks we will continue to expand ours. We have recently launched embeddable badges, a new feature to encourage our customers to support PhotoBiz by adding these badges to their Blog, Facebook Page, Splash Page and Website.
Passionate Support : Guaranteed Satisfaction!
For more information about PhotoBiz.com, or to get started using the new Anyone, Anytime, Anywhere Package visit http://www.PhotoBiz.com or visit us on Facebook at http://www.photobizfanclub.com.
# # #