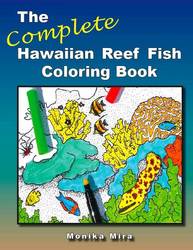 We are committed to promoting the responsible use of natural resources.
Lihue, HI (PRWEB) September 19, 2010
Lucid Publishing has teamed up with author of the award-winning title, The Complete Hawaiian Reef Fish Coloring Book to offer free coloring sheets to teachers and businesses that are interested in ocean conservation awareness. Recent threats to marine environments have included the Gulf oil spill, ocean acidification, marine debris, invasive species, and overfishing. In light of these threats, author Monika Mira has become especially concerned about marine resources and has designed the coloring sheets with conservation in mind. The coloring sheets depict fish and coral reef scenes and include a list of ways that anyone can help protect coral reefs and marine resources. While the coloring sheets can be obtained from their website, Lucid Publishing asks that the users print them out on recycled paper.
The new coloring sheet program is just one way Lucid Publishing is helping the environment. Choosing to produce high quality books that inspire children to protect natural resources and using sustainable printing practices are some of the policies that reflect their environmental philosophy. For example, The Complete Hawaiian Reef Fish Coloring Book includes over 200 colorable illustrations that help children identify over 80 species of Hawaiian reef fish. Not only is this book printed on recycled paper, but it also helps teach children about the importance of reef conservation. Additionally, with paper a core part of the publishing business, Lucid Publishing has committed to implementing policies that will support the preservation of endangered forests and advance best practices within the book and paper industry.
For more information about the Ocean Conservation Coloring Sheet Program, visit Lucid Publishing at http://www.lucid-hawaii.com.
# # #