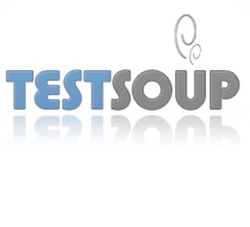 Everything else is going mobile, why can't test prep
Billerica, MA (PRWEB) September 20, 2010
Educational startup TestSoup is expanding its reach today after releasing news of its customized test prep solutions for high schools, community colleges, and universities. The startup has launched TestSoup Campus Edition as well as TestSoup Classroom Edition following successful beta testing with community colleges. Any school can create a customized webpage and pick the tests it wants to offer students. Once students log in through the page, they are granted free access to online and mobile test prep.
TestSoup prides itself on fast, affordable, and mobile test prep solutions to help students prepare for a variety of standardized tests. After mastering core math and verbal concepts, students can reinforce learning through hundreds of practice questions with detailed explanations. All content is created and reviewed by test prep experts. The company currently provides test prep solutions for the SAT, PSAT, ACT, GMAT, GRE, ACCUPLACER, ASSET, COMPASS, and the Air Force Professional Development Guide (PDG). Best of all, for just $9.95 for 12 months of access, anyone can study online with a web-based flashcard player and on-the-go with mobile apps.
The first 50 readers to contact TestSoup and type the promotional code "testprep" in the subject line will receive a free single user license to any flashcard study system for 12-months (a $9.95 value!)
The first 10 schools to contact TestSoup and type the promotional code "schoolsprep" in the subject line will receive a free customized webpage, which includes free online and mobile access for all students for 12-months (a $799 value!)
Co-founder and CEO Brian Reese is excited about the potential for thousands of schools to connect with tech-savvy students via online and mobile test prep. Students can create a username and password or log in with their Facebook accounts. Reese said about 30% of new users sign up with their Facebook accounts. "The idea to connect schools with students via customized test prep and social media is only going to increase with time" says Reese. "It's also an admissions enticement at a time when schools are competing for the same students."
With thousands of registered users, dozens of partnering schools, and a newly minted sales staff, Reese sees a bright future for the young company. "Student feedback has been amazing." Reese says. "Students really enjoy learning from their mobile device, as well as connecting to our system via social media. Everything else is going mobile, why can't test prep?"
The company will soon begin building even more applications. Reese hopes to add a quiz feature that will provide detailed written explanations and video explanations, as well as mobile apps for iPhone and Android. All apps as of this publication are for BlackBerry.
###