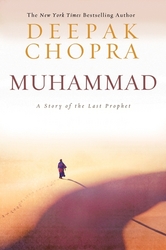 "Compellingly told, this is not only good storytelling, it also helps readers, especially non-Muslims, better understand the complexities and contradictions surrounding Islam." — Booklist
San Francisco, CA (PRWEB) September 14, 2010
At a time when Islam is both the world's fastest-growing religion and a source of controversy on the world stage, Deepak Chopra takes us back to the origins of this great and often misunderstood faith in MUHAMMAD: A Story of the Last Prophet (HarperOne; $25.99; October 1, 2010; ISBN-13: 978-0-06-178242-8). MUHAMMAD is the latest in Chopra's series of "teaching novels" depicting the founders of the world's great religions, which began with his New York Times bestsellers Buddha and Jesus.
"A great surprise awaited me when I began writing the story of Muhammad," Chopra says in an introductory note. "Among all the founders of the great world religions, Muhammad is the most like us." An orphan raised by an uncle and surrounded by a large extended clan, Muhammad lived a conventional life well into adulthood, becoming a successful merchant, marrying well, and raising a family. "What is extraordinary," Chopra says, "is that there are so many marks of common humanity in Muhammad's transformation."
That transformation begins with Muhammad's terrifying encounter with the archangel Gabriel in a cave outside of Mecca. Unable to process the experience, he tries to hide from it at first, before gradually coming to realize that he has been chosen as the instrument through which God will work His will. With that realization, Muhammad's life is irrevocably changed. "There is an inner man that nobody sees," he tells his daughter. "Now he is on the outside, and the outer man, he is gone forever."
Muhammad's task is to dispel centuries of ignorance and superstition by doing away with idols and multiple deities, uniting the warring tribes under a common faith in the one true God. At first he shares his message with a small circle of family and friends, but ultimately begins preaching in public, which earns him many enemies. After a failed assassination attempt, he flees to Yathrib (Medina). There his transformation continues, as Muhammad becomes a warrior of God who must confront the armies of the infidel.
Chopra tells Muhammad's story through a series of narrators that represents a cross-section of seventh-century Middle Eastern society: A Christian hermit, a Jewish scribe, a slave, a mendicant, a wet nurse, a merchant, Muhammad's beloved wife and children, his bitterest enemy—and even the archangel Gabriel. Each has a part to play in the spiritual development of a man who claimed no divinity for himself, yet established one of the world's great religions.
"I know that Muhammad suffers under centuries of disapproval outside the Muslim world," Chopra writes. "Ours is not the first age to react suspiciously when told that Islam means peace." By exploring the life—and the humanity—of Muhammad, Chopra performs an important service by fostering a better understanding of a vibrant, vital faith that continues to transform the world.
"[O]ne of the most imaginative and touching biographies of Muhammad….Chopra's grasp of Muhammad's life and mission extends his range in a surprising direction; his popularization is welcome." — Publishers Weekly
"Compellingly told, this is not only good storytelling, it also helps readers,
especially non-Muslims, better understand the complexities and contradictions surrounding Islam." — Booklist
"Higher consciousness is universal. It is held out as the ultimate goal of life on earth. Without guides who reached higher consciousness, the world would be bereft of its greatest visionaries—fatally bereft. Muhammad sensed this aching gap in the world around him. He appeals to me most because he remade the world by going inward. That's the kind of achievement only available on a spiritual path. In the light of what the Prophet achieved, he raises my hope that all of us who lead everyday lives can be touched by the divine."
—Deepak Chopra, from the Author's Note in MUHAMMAD: A Story of the Last Prophet
About The Author
Deepak Chopra is the founder of The Chopra Center for Wellbeing in Carlsbad, California, and Manhattan, New York, and is acknowledged as one of the master teachers of Eastern philosophy in the Western World. He has written more than fifty-five books and has been a bestselling author for decades with over a dozen titles on the New York Times bestseller lists, including Buddha, Jesus, The Third Jesus, The Seven Spiritual Laws of Success, The Path to Love, and many others.
MUHAMMAD
A Story of the Last Prophet
By Deepak Chopra
HarperOne, an Imprint of HarperCollins Publishers
October 2010 s Hardcover, $25.99 s ISBN: 9780061782428
###