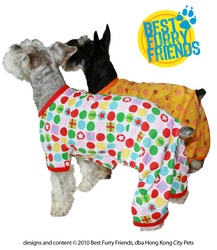 "We are committed to manufacturing well designed, quality goods that offer value, and will delight our customers. We anticipate great success as a result of our understanding of the needs of both pets and their owners". Ken Cheung, Director HKCT
Minneapolis, MN (PRWEB) September 28, 2010
Just in time for the Holiday buying season, Hong Kong City Toys is proud to announce the arrival of the Best Furry Friends brand, a stylish line of apparel and accessories for your dog. Visit their wholesale site at http://www.best-furryfriends.com
The Best Furry Friends brand is designed and manufactured with functionality and style in mind, not only to produce great results at retail, but also create great times between pets and their owners. Based on Hong Kong City Toys keen understanding of safety regulations for children's toys, the Best Furry Friends brand meets or exceeds all testing requirements for pet products, ensuring quality and safety to consumers.
"We are excited to launch our own brand of pet products," says Ken Cheung, Director of Hong Kong City Toys. "We are committed to manufacturing well designed, quality goods that offer value, and will delight our customers. We anticipate great success as a result of our understanding of the needs of both pets and their owners."
Hong Kong City Toys was established in 1979. The China based manufacturer boasts successful private label lines with major retailers across North America, Europe, and Asia in children's apparel, dolls and pet accessories. Hong Kong City Toys is an industry leader in reducing environmental impact by implementing sustainable practices involving efficient energy usage, waste management processes, and awareness and education of sustainable practices. Hong Kong City Toys has been recognized worldwide for their unwavering commitment to providing best in class performance with regard to quality, sustainability, value, safety and design.
Hong Kong City Toys will exhibiting the Best Furry Friends line at the H H Backer Show, in Chicago Oct. 8th – 10th. For more information, contact Kayti Miller, Business Manager at 612-823-3867.
###