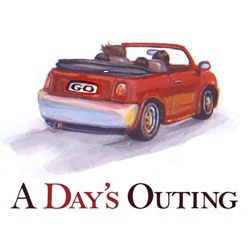 Share your favorite travel tale of a trip to a national, state or local park in America and enter to win.
Keswick, VA (PRWEB) September 22, 2010
A Day's Outing, a free service that helps people find the best local events, nearby day trips and weekend getaways all across the country, today announced the "Best Park in America" contest. Some of the most wonderful memories of a lifetime are from trips taken with family or friends to one of the abundant local, state and national parks that grace America's landscape. A Day's Outing helps users to find new places to visit and fun things-to-do, and with the "Best Park in America" contest, we want to hear your travel tales of trips taken to parks across the country.
Fun Facts About Parks

More than 84 million acres of land are managed by the National Park Service
276 million people visit the national parks each year
There 725 million visits per year to state parks
64% of visitors to state parks are children
There are more than 1 million acres of urban parklands in the U.S.
A Day's Outing's Best Park in America Contest
The "Best Park in America" contest celebrates the beauty and diversity of the national, state and local parks that are enjoyed by millions of people annually. A Day's Outing is hosting the contest for people to share a short travel tale of their most memorable park visit. Did you spend a great vacation or getaway at a national park with your family? Do you remember a birthday party in a park or a community rose garden you loved? Let us know your story and the most engaging 100 words will win a $100 iTunes gift card.
How to Enter
1. Simply tell A Day's Outing in 100 words or less, which park is your favorite and why. Submit your park travel tale to the Best Park in America contest here: http://www.adaysouting.com/content/the-best-park-in-america-contest
2. Entries to the contest will be accepted from September 22nd through October 22nd, and a winner will be announced on or before November 15, 2010.
"Our national parks are our national treasures. They offer some of the best opportunities to unplug, unwind, and reconnect with the natural world. Spend a week. Spend a day. Spend an hour. You'll be back for more," commented Susan Sherman, Executive Director of Shenandoah National Park Trust.
Find a great Day Trip
Whether you are looking for a national, state or local park to visit, A Day's Outing helps users find the best local events and outings quickly. With A Day's Outing simplicity is a priority, so users only have to answer four simple questions to find their perfect day trip or local destination:
Where are you starting from?
What type of outing are you looking for?
How far do you want to travel to reach your outing?
When do you want to go?
"Our goal is to provide A Day's Outing's users with a wonderful array of options for getting out and exploring the world around them. Whether they are in a protected area of the countryside or in a big city park, we want people to enjoy time with their friends and family," noted Elizabeth Muse, CEO of A Day's Outing. "Sharing a memory of their favorite moment in the "Best Park in America" contest will inspire others to discover a park near them."
Whether travelers are looking for something to do at the spur of the moment, planning for the weekend or searching for a day trip, A Day's Outing is a fast, convenient and reliable go-to guide. Both A Day's Outing's web-based service and the mobile iPhone app are essential ways for people on the go discover what's happening around the corner, in a nearby town, or farther away, based on their traveling preferences.
About A Day's Outing
Based in Charlottesville, VA, A Day's Outing is a location-based service for people to quickly discover the best local events and things-to-do anywhere in the country. A Day's Outing website and iPhone App helps users find activities and destinations for day trips, weekend getaways or vacation side trips. Users are matched to outings based on their specific starting location, personal interests, preferred driving distance and date of travel. For more information about A Day's Outing, please visit http://www.adaysouting.com.
(Editors Note: Artwork available upon request.)
###