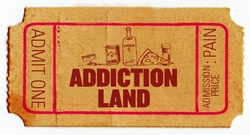 "When I was in the height of my addictions, the internet did not exist. If it had, I would have happily utilized online resources like Addictionland to learn about my disease and connect with other people who could understand me." Cate Stevens
(PRWEB) September 21, 2010
Addictionland was created by author and recovering addict, Cate Stevens, who candidly blogs and shares vignettes from her memoir on multiple, life threatening addictions. Addicts struggling to seek treatment because of the stigma of addiction will connect to this powerful site.
Drug Addiction & Abuse Recovery and Help
Addictionland, your ticket to insight and addiction support for:

Food Addiction
Drug Addiction
Alcoholism
Cigarette Addiction
Sex Addiction
Gambling Addiction
Shopping Addiction
Co-Dependency
Technology Addiction
and any other addiction you face.
Addictionland welcomes all types of addicts, professionals, therapeutic addiction support resources and recovery paths. Addictionland's main purpose is to offer its members a place to blog/discuss on any topic on their mind without judgment or unwanted personal exposure. Addictionland is a place to share secrets, express pain, ask questions, seek solutions and connect with other recovering people and/or professionals. Whether you disclose who you are or keep your identity private is completely up to you. It is a well-known fact that expressing one's pain with other people lessens the burden. So, sign up for your free membership today and do your part to stay in the solution!
###