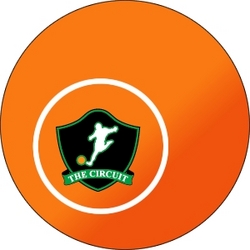 The Circuit is a series of open tournament events supported by Kickball365 to bring together the ultimate competitive adult kickball teams in America.
Alexandria, VA (PRWEB) September 27, 2010
Upon first glance, it appears as though you've walked by an elementary school midway through recess. A giant orange rubber ball flies through the air and cheers echo down the first baseline. Looking past the team tents, signs, coolers and fans, you see adults of all ages, and instantly realize this is no ordinary game, and this is definitely not recess. Competitors from states up and down the east coast, representing teams from New York to Florida, have traveled to Washington, DC for the second annual Kickball365 Open Tournament. Yes, that's right, competitive adult kickball. This time, though, bragging rights are not the only thing up for grabs. A cash prize of $3000 will be awarded to this year's champion. And the good news—this is only the beginning.
Adult kickball isn't a new concept. It has been around DC for several years, but tended to be segmented league by league. That's where Kickball365 comes in. Started in 2006, Kickball365 is the premier adult kickball portal for the world. In addition to its open online forum, it provides kickball-related news, sponsors Kickball Tournaments across the country, and hosts a National Kickball Power Poll – an independent ranking of the best adult kickball teams in the country. On any given day, the chats featured on the forum at http://www.kickball365.com/forum/ receive an average of 300 posts from players and fans alike.
But don't be fooled---adult kickball is nothing to be taken lightly. As teams are formed, players drafted, tryouts held and official practice schedules sent out, athletes are trained and developed. Rosters are carefully decided upon and strategies are formed. Some teams have been known to go on scouting missions at nearby universities to find the cream of the crop.
Only after watching a tournament, can the competition afforded through the sport of kickball be truly appreciated. Several teams, like the Meatballs, hailing from southern Florida, travel to multiple tournaments each year. Champions of this year's Kickball365 Open Tournament, the Meatballs' 2010 winnings total more than $10,000—not too shabby for a weekend road trip kicking around a rubber ball. Kickball provides more than a chance for adults to play a game—it brings friends together, new and old, provides a fun way to travel the country, and on more than one occasion, has served as an introduction for future newlyweds!
In 2010, Kickball365 developed an official rulebook and began its tournament series, The Circuit. In its inaugural year, The Circuit will host four tournaments, and plans to nearly double that next year, with events coast to coast. Each tournament will reward a cash prize to the winners, and will raise money to benefit a philanthropy of the Event's choice. Similar to NASCAR's Sprint Cup Series, beyond the individual tournament winnings, teams can continue their participation in multiple Circuit Events and vie for the Annual Circuit Cup. Official Circuit Events will draw major sponsors, and will feature not only a one-day tournament, but a weekend of events. This year's third Circuit Event, the Kickball365 Open Tournament, began with a Meet & Greet party, where pools were drawn, and players were welcomed. Post-tournament victories were celebrated at the Saturday night after-party, and the weekend ended with a Major League Soccer DC United / LA Galaxy game and tailgate on Sunday, where Kickball365 had the opportunity to go out on the field and test out their star power on the Jumbo Tron. It was a non-stop event, and one that will not soon be forgotten.
So, what's in store for the competitive kickball players out there? In a world where you can turn on the TV and watch a national hot dog eating contest, it makes you wonder if kickball will ever go pro. We can't predict the future, but our fingers are crossed!
http://www.kickball365.com
http://www.kickball365.com/TheCircuit/
###