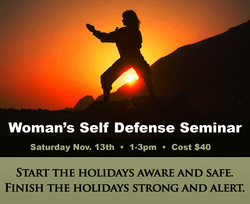 "The level of instruction at Newbury Park Martial Arts Center is truly world class"
Newbury Park, CA (PRWEB) September 15, 2010
Newbury Park Martial Arts Center offers the Number One self defense course in California! Our martial art is about magic, not muscle. The techniques experienced will increase your likelihood of peace, security, and well being- not as a way to encourage violence. We guarantee a fun, safe, effective class while getting a great workout.
Attend this exclusive two hour womens self defense course on Saturday, November 13th from 1:00p.m. to 3:00 p.m.. Registration is easy; simply visit online at (add link),or call Newbury Park Martial Arts Center directly at 805-499-9033. Cost for the seminar is only $40.00. Limited space, register early.
What people are saying about Newbury Park Martial Arts Center:
"Whether it's traveling alone to another country or negotiating a multi-million dollar deal in the office, I utilize the insight and skills I have acquired through my NPMAC training every day."
-Margie Moreno
"I will never forget the day my daughter first stepped on the mat. That day stands out for both of us as one of the most important of her life."
-Kathy Arnold
"I have taken self defense courses in the past, but they always relied on my being fast and tough- and never addressed that fact that I will be scared, nervous and not as strong as my assailant. Newbury Park Martial Arts Center courses are different. They taught me how to find space and get away, and addressed the whole picture. I truly believe I can do this!!"

###