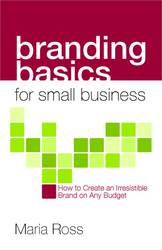 "Effective branding is not about how much money a business has to spend. It's about how clearly and consistently they communicate their value and what makes them special across everything they do. It's about making a promise and then delivering on it.
Seattle, WA (PRWEB) September 14, 2010
It's a tough world out there right now - especially for small businesses.
Today's news touts headlines of sluggish home sales and construction starts, and a continuing slowing economy. The stock market has been shaky as consumer confidence is aggravated by growing concerns about our global economy.
As the economy struggles to recover, small businesses are expected to play a pivotal role in the process, as they create most of the nation's new jobs and employ about half of the nation's private sector workforce – a significant reason for the Obama Administration's work on the Small Business Package that just passed Congress.
Yet only 1 in 2 small businesses will survive more than five years.
Enter Maria Ross, Branding Expert, a marketing and branding expertwho runs her own firm, Red Slice, in Seattle and who has crafted winning strategies for Discovery Networks, Monster.com, Business Objects and Microsoft - as well as Silicon Valley start-ups and numerous independent small businesses.
Her experience spans both the client and agency sides, giving her a unique vantage point on how to effectively market a business, whatever their size and/or budget. Maria is a guest blogger for Microsoft UK's Small Business site, and is the author of Branding Basics for Small Business: How to Create an Irresistible Brand on Any Budget, a newly launched book from Norlights Press with cover endorsements from several best selling marketing gurus and luminaries.
Her book provides a step by step guide for small businesses in crafting and implementing a winning brand strategy that will attract the right customer, generate buzz, increase profits - and improve their chances for long term success.
The Congressional bill may well help loosen up some cash for small businesses – but it's what they do with those opportunities that will make all the difference.The below tips for small businesses operating on tight budgets are a sample of the focused, hands-on process- driven approach taken through-out the book:
1. Build Brand Basics - Create a strong brand strategy first before spending money on any design, writing, advertising or promotion. This foundation will save you time, money, headaches and countless billable hours from vendors. You can easily create your own brand strategy by answering the ten key questions in her new book.
2. Get to Know Jane Doe - Create a detailed character profile of your ideal customer. Create a real, crisp target so you aim for someone specific. Focus on who they are, where they live, what they do for a living, what they read, if they watch TV, what clubs they belong to, etc. so you only invest in marketing programs that really connect with your target audience, rather than blasting your message to everyone and having no one pay attention.
3. Free is the New Black - Go beyond leveraging the obvious social media like Twitter or Facebook. Subscribe to get free PR leads so you can present yourself as an expert media source when reporters are looking for one in your area. HARO (http://www.helpareporter.com) is a good one to use; conduct unpaid, speaking engagements at groups and associations where you can find your target customer (see Tip #2); post comments on relevant industry blogs; write contributed articles or actively pursue two to three strategic referral partnerships. These are great ways to promote your business without spending a dime.
Media Contact:
Maria Ross
maria(at)red-slice(dot)com
206-661-0227
###