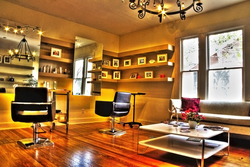 Austin, TX (PRWEB) September 15, 2010
Atelier Hervé is an intimate boutique salon nestled in a classic old house in historic downtown West Austin. It is accessible, welcoming and relaxed. Owner and Master Stylist Hervé Lapuente has worked with hair and trained stylists around the globe for over two decades. In addition to fluency in three languages he speaks, most importantly, the language of great hair.
In addition to permanent Japanese straighteners, Atelier Hervé now offers popular Brazilian Keratin Straighteners. Think of it as obedience training for your hair. Prices run from $50 to $300 depending on volume and coverage.
Owner Hervé Lapuente is an award winning Master stylist with over 20 years experience in the art of beautiful hair. Born in Paris, France Hervé is a fluent speaker of English, French and Spanish. As the son of two globe trotting Master Stylists, Hervé practically grew up in salons in France, Mexico and the US.
After completing his training in Paris Hervé spent a few years in Austin salons learning the ropes. He then spent 6 years as an international creative team member with hair giants Rusk, performing at educational and artistic seminars in over twenty countries worldwide. He trained and updated numerous team members and educators throughout three continents and taught advanced cutting techniques at the Rusk Academy.
Tired of life on the road Hervé left Rusk to focus on his own salon in the Austin neighborhood of Westlake Hills which he ran for 4 years. During this time he achieved numerous milestones including being nominated "Top 20 Designer of the Year" by Salon Today magazine 2001, featured in Bazaar magazine summer's hair trends, in In Style magazine and winner of the Picture Perfect contest by Schwarzkopf. Hervé then opened the salon in the world renowned Lake Austin Spa.
Ready once again for his own place, he opened Atelier Hervé. His mission at Atelier was to create a harmonious setting that makes the client the sole focus. This he achieved. Atelier Hervé, in a classic West Austin house is intimate and friendly yet professional and dedicated to great hair. Described by more than one client as having 'good vibes' petite Atelier Hervé houses just two talented stylists. It delivers the experience and professionalism of a large high end salon without the overheads. Hervé likes to make people feel good about themselves, he accepts this as a personal challenge and he's not satisfied until you are.
###