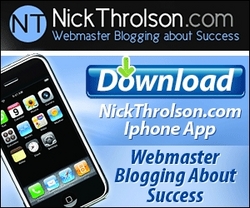 "Most people spend so much time and money reading about it, they don't put the information into action. Affiliate marketing requires thinking outside the box. Don't be afraid to get creative."
Corona, CA (PRWEB) September 14, 2010
Internet performance marketer, Nick Throlson, can teach you how to operate a successful Internet business from the comfort of your own home.
Throlson utilizes search engine optimization and pay per click methods to drive traffic to his websites. He decided to share the benefits of his experience with others through his blog, Nick Throlson.com: Webmaster Blogging about Success. The blog can be found at http://www.nickthrolson.com. The sites he operates have been very successful and he was named as one of the Top Young Bloggers Under 21 by the Retire@21 website.
"My blog let's me express myself and help others grow and expand their business," said Throlson. "Learning from others is key. I can't emphasize that enough. Education is the key to being successful in life."
Throlson's website explores a wide variety of topics related to Internet marketing and making money online, from establishing a website and optimization techniques to selling the website for a profit. He also provides reviews on new products, software and plugins.
His informational smorgasbord doesn't end there, however. Throlson was one of the first to inform readers how they could be rewarded for testing Microsoft games. He's also informed his readers about online offers, contests and opportunities.
The primary focus of the blog is to help others successfully engage in Internet marketing and he's remained true to that goal. Through his blogging efforts, Throlson can show you the best places to host your affiliate sites. Once your website is up and running, he'll tell you about the best tools for optimizing your site for success.
Throlson also has tips on various strategies for conducting successful marketing campaigns utilizing methods that include social media platforms. You'll discover how to increase leads and referrals, and about resources for generating free publicity for your site.
The site maintains a complete archive of all his blog entries so you can refer back to specific blogs and information as many times as you'd like. He also provides links to the appropriate websites for more information. You can also contact him via the website with specific questions. He tries to answer as many emails as he can.
When you visit the site, you'll have the opportunity to sign up for his free newsletter and get instant access to information that will teach you how to make money online, the latest affiliate marketing tips and an eBook on successful split testing.
Throlson has been successfully marketing online for six years. From his first experience with computers in school, he knew he wanted a career that involved working with computers. Employed at McDonald's, he worked his way up to the position of manager. He began setting up domains in his spare time and the sites attracted thousands of visitors. He quickly realized the potential of marketing to those visitors.
"The best advice I can give to somebody starting new in affiliate marketing is to quickly put into action what you read," said Throlson. "Most people spend so much time and money reading about it, they don't put the information into action. Affiliate marketing requires thinking outside the box. Don't be afraid to get creative."
For more information, visit nickthrolson.com.
###