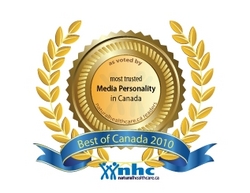 It's like the People's Choice Awards for the Canadian natural health sector.
(PRWEB) September 15, 2010
Everyone prefers to purchase new products and services based on recommendations as opposed to advertisements. Now here's a chance to let other Canadians know who to turn to for natural therapies, products, and even news – and to tell them why.
Whether it's a favourite brand of supplements, an amazing massage therapist, or a hidden gem of a wellness clinic, visitors have been enthusiastically sharing their picks. It's only one week into the voting process and the response has been amazing. Several categories have races shaping up as clients register their votes of satisfaction.
Voters are given the option to add a short testimonial so that others can see why a particular nominee has been chosen. This makes the contest website a great place to discover natural health products and people from different parts of the country, as well as a way for smaller businesses to get discovered – and for clients to say "thank you" to businesses they rely on.
Gisela McKay, Managing Director of NaturalHealthcare.ca, says, "Every day I have been introduced to a product line or store I hadn't known about simply by browsing the new nominees. Yesterday it was a line of organic skin care products from British Columbia."
Practitioners and stores are chosen and voted on locally; products, media personalities, activists, and publications are selected national-wide. Voting runs closes end of day on Friday, October 1, 2010.
Visit NaturalHealthcare.ca to vote for your favourites now.
# # #