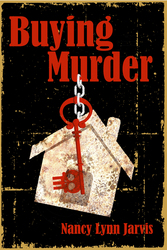 A building inspector once discovered an empty triangle space between house walls and joked that a body could be hidden in it. There had to be a book using that premise
(PRWEB) September 15, 2010
Nancy Lynn Jarvis has added a third book to her Regan McHenry Real Estate Mysteries series with the release of Buying Murder. The book, set primarily in Bonny Doon and Santa Cruz County, also has scenes that take place in San Juan Bautista and Hollister.
Jarvis's books use her real life experiences as a twenty-plus year Realtor working in Santa Cruz and local events like the wildland fires that raged in Santa Cruz County in 2008 and 2009 which open Buying Murder for background, color, and as inspiration for murder.
"A building inspector once discovered an empty triangle space between house walls and joked that a body could be hidden in it. There had to be a book using that premise," the author says. She invites you to read the first chapters of Buying Murder for free at http://www.GoodReadMysteries.com to see if you agree.
The book is available in standard and large print at the website, in Santa Cruz County bookstores , and on Amazon.com (for Kindle, too).
Contact information:
Nancy Lynn Jarvis
831-427-1320
301 Azalea Lane
Santa Cruz, CA 95060
nancy(at)goodreadmysteries(dot)com
http://www.goodreadmysteries.com
Press photos of the author and book covers are available at http://www.goodreadmysteries.com. Use the publication tools button for access.
# # #