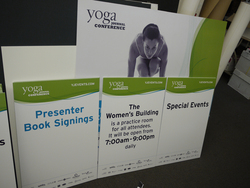 Latex printing has already met the demands of corporations with firm commitments to sustainability, including Nike and Sony.
Boulder, CO (PRWEB) September 28, 2010
The traditional way to determine success in business has always come from measuring the bottom line. In Boulder, Colorado, businesses like the Eight Days a Week digital imaging center are also boosting their vitality with a triple bottom line approach that considers environmental and social factors along with the metrics of financial success.
For Sam and Cheryl Sussman, owners of Eight Days a Week, making environmentally friendly decisions has long been part of their business model. The family-owned firm is now the first in Boulder County – a national environmental hotbed -- to switch to the use of latex printing technology, which is a major departure from the traditional use of toxic solvents.
"I felt it was important to do my part in eliminating odors and solvents from the printing process, and in diverting as much solid waste from landfills as possible," said Sam Sussman. "Between the clean inks, the energy-efficient hardware and the recyclable materials, latex printing delivers the greenest printing technology available. By giving environmentally-conscious clients a clean choice, I also think it will increase my customer base over time."
For the brief environmental rundown, latex inks are water-based, as opposed to petroleum-based solvent inks that also release high levels of VOCs. The printers are ENERGY STAR rated, and printed products come out dry – so shops don't need energy-using external dryers. Ink cartridges, printheads, and even parts of printers are recyclable. * As to social impact, the latex inks emit no Hazardous Air Pollutants, protecting the health of workers.
In the world of advertising and marketing, a top-notch finished product can make the difference between success and failure – and the latex technology delivers. The bright colors and outstanding image quality come from a printer that is capable of resolutions up to 1200 dpi, and the prints have durability and display permanence comparable to eco-solvent and low-solvent inks.
Latex printing has already met the demands of corporations with firm commitments to sustainability, including Nike and Sony. For the past few years, the Nike Women's Marathon has "greened" its event with latex printed banners. At the 2009 U.N. Climate Change Conference, the World Wide Fund for Nature turned to latex printing to reduce its environmental footprint. Also, Boulder's Homebrewers Association used latex printing from Eight Days a Week to print signage for podiums at their 2010 Great American Beer Festival.
"Using signs that were printed with non-toxic inks and recyclable materials fits in with the environmental efforts we are making with our event. And the finished product had the same great quality that we always receive from Eight Days," concluded the Boulder's Homebrewers Association.
About Eight Days a Week–From the first color copier in Boulder in 1977 to today's state-of-the-art equipment, Sam and Cheryl Sussman have kept Eight Days digital printing center on the cutting edge of technology in a friendly hometown atmosphere. Eight Days services include graphic design, such as design of logos and icons, brand imaging, illustration and other art forms. Video production services for web sites and webcasts, business use and trade shows, campaigns and advertising are also available. The Sussmans have fostered strong ties within the community through participation and generous donations to many local charities and organizations.
*NOTE: certain components listed here are recyclable through Hewlett-Packard programs.
This press release was written in accordance with Federal Trade Commission's guidelines for "green" marketing.
###