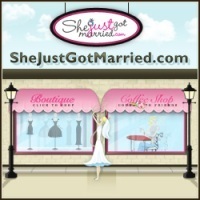 "I just found your site and already I'm loving it" ~ Lucy "I absolutely love my "She Just Got Married" tank and hot pink panties (and so does my hubby!) ~ Elizabeth H.
Colorado Springs, CO (PRWEB) September 15, 2010
'She Just Got Married' combines the best of two worlds….shopping & socializing! The Boutique provides a free online listing site to buy and sell gently used wedding accessories and apparel. Our Boutique motto, "Share the Love…..Save the Planet", encourages eco-consciousness by recycling previously owned merchandise. What a great way for newlyweds to recoup a little of the investment of the wedding while helping the next bride-to-be save on the expense of her own.
And now - we're so excited to announce that our Sassy, Fun line of apparel can be found in Boutiques and Gift Shops!
Officially launched on Sept. 7th, 2008 "She Just Got Married" has a bold vision to empower and encourage newlywed women all over the world by offering a platform of positive direction built on the idea that it 'takes a village'. While this quote typically refers to raising a child I believe its principal is universal in that we need each other in all areas of life to grow and to thrive. Marriage is no exception. With over 2.5 million weddings taking place each year in the US alone, we, as fellow newlyweds as well as mentors, have an opportunity to reach the hearts of this collective group of women and share concepts and ideals that will help promote total, integrated health and wellness…..mind, body and spirit and planet!
###