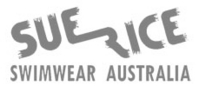 The concept to do personalised fittings over Skype actually came from one of our valued customers
(PRWEB) September 15, 2010
Suerice.com.au, one of Australia's fastest growing swimwear brands has recently added a new customer service feature to their charter; a free Skype-to-Skype fitting consultation for all their clients.
This means that Sue Rice customers can take advantage of the expertise of the team, all from the comfort of their own home. This unique face to face customer service adds a personal dimension to online shopping usually experienced only by a visit to a physical shop in a particular locale.
'The concept to do personalised fittings over Skype actually came from one of our valued customers. Our swimwear fitters are standing by for Skype consultations to help shoppers select the right women's swimwear, because sometimes that extra help from an expert can make all the difference!' said Sue Rice, Founder and CEO.
She adds, ''Seeing and interacting with clients is such an important part of being a professional fitter. A Skype consultation provides our clients with the best possible expertise anywhere in the world and at the same time invites feedback on the styles and colours they want to see in swimsuits.'
Customers simply need to download Skype, click 'add friend' and type in sue.rice.swimwear – once submit has been hit, a Sue Rice consultant will accept your request and arrange an online fitting time.
ABOUT THE COMPANY
Sue Rice Swimwear is an Australian owned and operated swimwear brand offering beautiful women's swimwear for all ages, styles and tastes.
The range includes plus size swimwear, maternity swimwear, swimsuit accessories and more, all designed by Sue Rice herself.
For more information, contact:
Sue Rice
Sue Rice Swimwear
170 St. Johns Road, Glebe, NSW
+612 9660 0488
enquiries(at)suerice(dot)com(dot)au
# # #