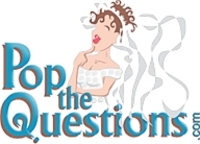 Even with the down turned economy, couples are still finding love, getting married and in need of affordable wedding planning assistance. Voila! Instant online wedding planner at your beck and call.
Wayne, NJ (PRWEB) September 14, 2010
Topweddingquestions.com, an online wedding planning and etiquette forum, is changing its name to Pop the Questions. Along with the new domain name, parent company Top Wedding Sites Inc. is launching a new Web design that will include offers for pre-paid packages of time that allow customers to obtain one-on-one virtual wedding coaching through a new private area of the forum. (Please mention that theystill offer the publicly viewable area of Q&A as a free service).
The forum serves individuals who are planning or participating in weddings by responding to their questions about wedding preparations and etiquette. A team of seasoned wedding professionals including a reverend, photographer, jeweler, makeup artist, hair stylist, wedding gown designer, style expert, florists, bridal consultants and etiquette specialists answer the questions in their pertinent categories, often within a 24-hour period. Forum visitors can post questions on a range of issues such as whether to use real or silk flowers, planning a wedding on a budget, ideas for bachelor or bachelorette parties as well as honeymoons, the proper etiquette for various occasions and how to navigate different family dilemmas.
Forum visitors can post their questions for free as long as they comply with forum rules. However, one of the major benefits of Popthequestions.com's paid option is faster, private replies from the forum experts. Users will have direct and unlimited online contact with those experts for different packages of time. A single question will cost $5 while a week of unlimited online support will be available for $9.99. The forum will also offer a monthly service for $29.
"It will be like having a virtual wedding coach at your disposal," said Donna Ennis, administrator for Popthequestions.com. "But instead of requiring a significant outlay of cash for set sessions, we've provided a cost-effective option that allows visitors to pose questions whenever they arise over an extended period of time."
An additional benefit of the paid option is the anonymity that a special, private area of the forum affords since the questions and answers will not be seen by other forum users as with the free portion of the website. "In the private area of the forum, the bride, or anyone who has paid, can ask any wedding-related question," said Ennis. "This will enable users to post those sensitive questions that they don't want anyone else to read, for example, if the mother-in-law is a problem."
Popthequestions.com's parent company, Top Wedding Sites Inc., was formed in January 2000 and also owns Top Wedding Sites, a wedding guide and directory, and idotaketwo.com, a guide to planning an encore wedding for brides who are getting remarried or couples planning a wedding vow renewal ceremony.
###