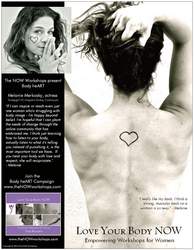 We're changing the current definition of beauty.
Los Angeles, CA (PRWEB) September 15, 2010
In November of 2009 Amber Krzys created The NOW Workshops, a company dedicated to appreciating who you are and what you have NOW. Little did she know the effect her work would have on women.
Love Your Body NOW (LYBN), the division devoted to the body, is a workshop that is changing women's lives. It is based from Krzys' first-hand experience of learning to love her own body. She grew up as a dancer and actress and took extreme measures to look a certain way. "I never felt like I was thin enough. There is this immense pressure to look a certain way and I tried just about everything to make my body different," says Krzys. Until one day she woke up and decided she didn't want to play the "Perfect Body Game" anymore. She set out to find out if it was possible to love her body NOW. These workshops are the result.
The LYBN Intro Workshop is the foundation for this work. This one-day intensive is offered every other month in the Los Angeles area and provides women the tools they need to accept and love their body exactly as it is now. Krzys' clients tout her work as "an empowering and inspirational journey for any woman of any age, shape or size" and state she has "truly inspired me to see my body through a new filter of love and appreciate ALL of who I am."
Krzys' work has been so well received that it is expanding beyond the Los Angeles area. Love Your Body NOW is partnering with Express MiE in Tempe, AZ to hold it's first ever out-of-town event in honor of "National Love Your Body Day". The event will start on Saturday, October 9th at 10AM and go until 6 PM.
Women who are interested can register for this event or any Los Angeles workshop at http://www.theNOWworkshops.com. The regular workshop fee is $125, though the Tempe event has an early-bird special rate of $99 that expires September 25, 2010.
"Our goal is to expand the current definition of beauty. This work is doing that." says Krzys.
Other offerings include a LYBN Group Coaching Call where participants call-in once a week for six weeks to receive support and accountability for reaching their goals. Also offered is the LYBN Project Team. This nine week adventure focuses on a body project and meets once a week for nine weeks in person.
For more information on Krzys and Love Your Body NOW visit http://www.theNOWworkshops.com.
###