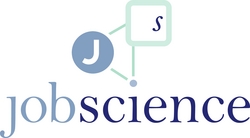 More and more customers who have success with Jobscience quickly want to move to the next level by customizing our applications and fully integrating them into their enterprise. Aptaria has the team and the experience to do this seamlessly
San Francisco, CA (PRWEB) September 15, 2010
Jobscience announced today that it has partnered with Aptaria, a leading CRM and cloud computing consultancy, to help customers most effectively customize and integrate its Force.com-based HR and talent management applications into their organizations.
The announcement comes just months after Jobscience's latest release of the TalentCloud2 suite, which features Recruiting, Onboarding, and Managing applications. Recognizing the benefits of cloud-based solutions in customer relationship management (CRM) through salesforce.com, more and more companies are adopting cloud applications for their human capital management (HCM) needs.
Jobscience is the leading provider of HCM applications on Force.com—a Platform-as-a-Service (PAAS) offering from salesforce.com—and for the past two years has received salesforce.com's AppExchange Customer Choice Award for Recruiting. "Jobscience's cloud-based applications are the best in the HCM space—both powerful and very configurable to each customer's unique needs," said Andrew Lawlor, Aptaria's President and Chief Architect. "We are excited to help customers streamline their talent recruitment processes and seamlessly integrate Jobscience applications into their enterprise."
Aptaria has been leading the movement to the cloud for years by helping companies customize and integrate salesforce.com and other cloud-based applications on the Force.com platform. By joining forces with Aptaria, Jobscience can offer its customers the same level of customization and integration services that Aptaria offers its other clients.
"More and more customers who have success with Jobscience quickly want to move to the next level by customizing our applications and fully integrating them into their enterprise," said Jobscience Chairman & CEO Ted Elliott. "Aptaria has the team and the experience to do this seamlessly and delight our customers with the end result."
About Jobscience
Jobscience is the leading provider of recruiting, onboarding, personnel management, and expense management applications on the salesforce.com (NYSE:CRM) Force.com platform. With tens of thousands of users and ten years' experience in the human capital management category, Jobscience is an innovator in developing and delivering solutions that help employers and staffing firms recruit, develop, and retain top talent. Jobscience's TalentCloud product has twice been recognized by salesforce.com customers with the "AppExchange Customer Choice Award" for Recruiting.
About Aptaria
Aptaria is a cloud computing and CRM consulting firm specializing in Force.com and salesforce.com implementation and integration. Founded in 2002, Aptaria helps companies and government agencies fully integrate cloud-based applications with enterprise software. Its clients include Citibank, Deltek, ExxonMobil, Freddie Mac, and Nutricia.
###